Construction workers in southwestern Turkey have discovered an ancient jar containing burnt human remains, thought to be from the Hellenistic period, reports said on Monday.
Teams from the Milas Museum in Muğla province started excavations at the construction site located on İsmet Paşa district after the discovery of ancient ruins.
They found the 40 centimeter jar two meters below the surface. It is thought to have been used as a sepulcher and was reportedly brought to Milas Archaeology Museum for examination.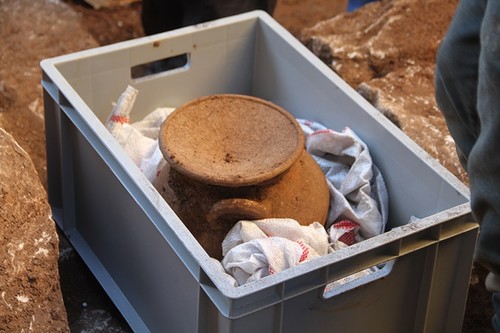 (AA Photo)
Milas, similar to many other western regions in the western Turkey, is an ancient city dating back to thousands of years.
The city's earliest historical mention is at the beginning of the 7th century B.C., when a Carianleader from Mylasa by name Arselis is recorded to have helped Gyges of Lydia in his contest for the Lydian throne.
Turkey is home to countless numbers of ancient sites from ancient civilizations and Milas alone contains a total of 27 archaeological sites.