Archaeologists have discovered an ancient settlement consisting of "luxurious" houses during excavations in Yassıtepe, which is connected to Yeşilova Höyük (settlement mound) in Bornova district of Turkey's western Izmir province.
Head of the excavation committee, Dr. Zafer Derin told Anadolu Agency that by studying maps from 1923, archaeologists were able to determine that there was likely an ancient settlement in the region. In 2010, excavations at Yeşilova Höyük, which is the first known prehistoric settlement in the Izmir region, expanded to begin work at the Yassıtepe site.

"We have discovered 10 settlements built on top of one another. The top settlement is from the Trojan period. We can almost say that we are digging up a little Trojan city," Derin said.

Derin added that the long, thin metal and bronze axes and stone tools, as well as pottery discovered at the site were in line with artifacts associated with Troy.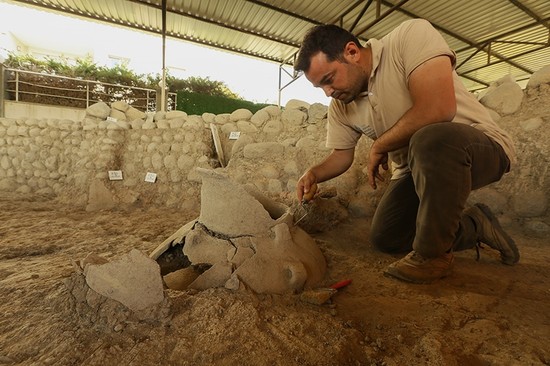 Derin emphasized that the houses were not considered individually when the settlements were being built, but that the whole space had been designed using an urban planning infrastructure on a single plane, with each house having an area of 75-80 square meters.

"Luxury life began here 5,000 years ago. The pottery they produced is of extremely high quality," Derin explained, adding, "The people who lived here stored their grains and liquids both on the ground and under the soil. They took advantage of all possibilities to make life the most convenient and comfortable for them."
Excavations also revealed empty spaces in front of the home foundations, which served as a type of patio for residents to sit, talk and pass the time.