Researchers have discovered a 100-year-old shipwreck in the Gulf of Izmir off Çiğli district, Izmir Metropolitan Municipality said Saturday. The shipwreck is thought to be one of the Greek vessels leaving the city following the Greco-Turkish War.

According to a statement by the municipality, researchers at Dokuz Eylül University (DEU) Marine Action in Science and Technology Institute found the shipwreck as they were carrying out a rehabilitation project for the Gulf and Harbor of Izmir.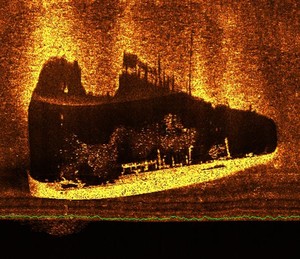 An academic at DEU, Professor Muhammet Duman reportedly said that this is the fifth shipwreck found in the gulf.

He noted that the ship was 78 meters in length and eight meters in width.

"The ship could be one of the vessels belonging to the Greek forces leaving İzmir following the occupation," Duman said, adding that it is believed that a Turkish 'hero' submerged it as it was leaving.

The professor noted that it could also be one of the cargo vessels carrying goods to İzmir in the late 19th century.

"We will have more information on how the ship was submerged as we get clearer images," Duman said.

The Greco-Turkish War took place between 1919 and 1922 in the aftermath of World War I. It involved the occupation of western Izmir province by Greece, who thought the Turks would not be able to resist them, but the latter successfully drove the Greeks back to the sea.