Two farmers in Turkey's southeastern Adıyaman province discovered a 1,600-year-old mosaic, thought to be from the Roman period, reports said Sunday.
The farmers found the mosaic in Adıyaman's Gölbaşı district as they were working in the field and immediately informed the gendarmerie.
Adıyaman Museum officials and archaeologists arrived at the field to inspect the mosaic and noted that it is from the fourth century BC.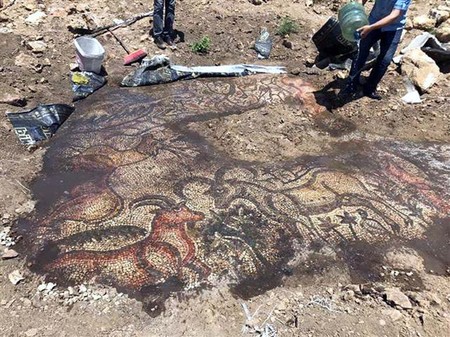 The mosaic was then handed over to the museum.
One of the fastest growing cities in Turkey, Adıyaman's history dates back to 40,000 B.C.
It was inhabited by ancient civilizations, including Assyrians, Persians, Macedonians, Romans and Byzantines.
The history of mosaics dates back to Mesopotamia, considered to be one of the earliest civilizations in the world.
They have especially been used throughout basilicas in Ancient Greece and Rome as a form of decoration.