The symbol of the conquest of Antalya, the Kesik Minare (Korkut) Mosque, will undergo restoration after 122 years and will open for prayer afterward.
Speaking to Anadolu Agency (AA), Hüseyin Coşar, the regional director of the General Directorate of Foundations in Antalya, said it was heartbreaking that the mosque had not been restored or renovated for 122 years. While there have been small-scale restorations, they could not prevent the building from decaying over the years. The directorate had to take emergency safety precautions to stop the building from collapsing within the past few years, and during this time, discussions about turning the building into an open-air museum or other historical site took place. The last decision was passed by the State Council for the structure to remain as a sanctuary to open for prayer.
Coşar said that they have set up a special scientific team to ensure that the 800-year-old mosque remains in its original form. He also said that the specifications have been issued and the work will continue under the control of a special committee with due diligence, adding that the written resources from travelers are scanned and all other required details are being observed for the project, which has a budget of approximately TL 12 million ($3.4 million) and is planned to be completed within the next three years.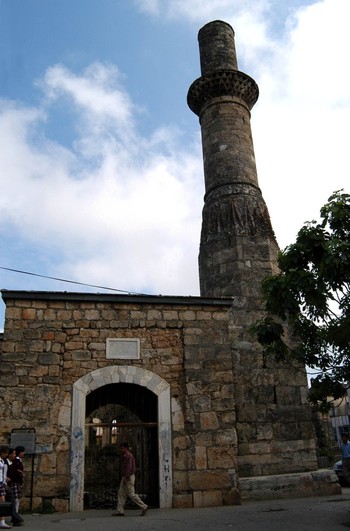 Located on Kaleiçi Hesapçı Street, the mosque was built in the sixth century as a Roman temple and later turned into a basilica in the early years of Christianity.
After the Seljuks conquered Antalya, it was converted to a mosque and called Cami-i Cedid (New Mosque) and became the symbol of the conquest. During the Ottoman era, the son of Sultan Bayezid II, Korkut, was assigned to the Teke Sancak Chiefdom and he added another minaret to the mosque. The mosque was severely damaged by fire in 1890, and after one of its minarets made of wood burned down, its local name became "Kesik Minare" (Cut Minaret). Guard rails were built around the mosque, which was restored in 1974, and some heavily damaged parts were prevented from collapsing.
The mosque located in the Kaleiçi urban archaeological area - an urban and rural environment serving the public interest - a third degree archaeological area, was put up for a bidding process for the contract for restoration, but due to objections from some nongovernmental organizations, the restoration was unable to take place.