The Turkish Ministry of Culture and Tourism will carry out a project to renovate the country's third largest fortress built during the Roman era, located in northeastern Bayburt province, a lawmaker said Sunday.
Ruling Justice and Development (AK Party) Bayburt Deputy Şahap Kavcıoğlu told Anadolu Agency that the new project will aim to revive the unique characteristics of the fortress, which include ceramic tiles and an excavation of ancient living quarters.
"The fortress is historically known as the 'Tiled Fortress' but none of the features have survived," Kavcıoğlu said, adding that there were living spaces in the inner section of the fortress.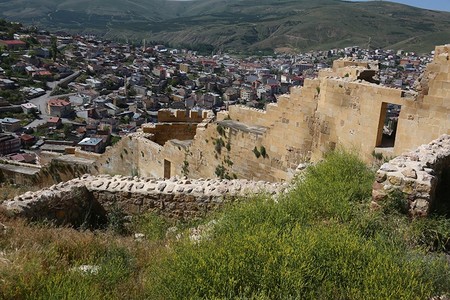 The restoration project, which will include archaeological excavations, is expected to enable visitors to get a glimpse into how ancient people lived inside the fortress.
The project will also focus on the area surrounding the fortress, Kavcıoğlu said, adding that they will build shops, cafes and restaurants for visitors and turn the site into a major touristic attraction.
The ministry is expected to make a 4.5 million Turkish lira ($1.3 million) tender in the first phase of the renovation project on July 20.
More tenders will be made as necessary after each step of the project has been completed, reports said.
The fortress, which is believed to have been built by the Romans, was renovated and used by others throughout history.
Overlooking the city of Bayburt, the fortress was located on the ancient Silk Road and hosted various ancient civilizations, including the Romans, Byzantines, as well as the Seljuks and the Ottomans.
During the late Middle Ages, Bayburt was a stronghold of the Genovese and its strategic location between the Empire of Trebizond in the Black Sea and Persia boosted its prosperity in the 14th century.
Other historical landmarks in the city include an underground city, tombs, mosques, baths and Baksı Museum.
Famous Ottoman traveler Evliya Çelebi and Venetian explorer Marco Polo are believed to have visited Bayburt in the 16th and 13th centuries respectively.