A team of researchers in Turkey's southern Antalya province have found what may have been the first example of a brand, inscribed on a number of ancient mosaics and terracottas dating over 2,000 years old.
Discovered in the ancient city of Antiocheia Ad Cragum -which is located in the southern Gazipaşa district— embossed letters "ANT" represent the first example of branding, Professor Birol Can from Uşak University told Anadolu Agency.
"In this year's excavations, we found proof showing that the city had a brand value" Can said, adding that many of the products discovered in the excavation site bore the writing "ANT," which he claimed stood for Antiocheia Ad Cragum.
Can noted that the findings suggest ancient people were interested in branding.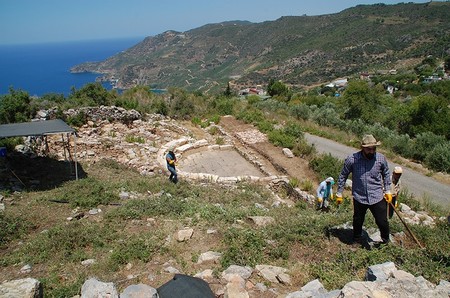 "The stamps we found on ceramics and confirm that they were produced here. Perhaps this place was one of the significant production centers which had successfully created their own brand in the Meditarrenean," Can said.
Project Director of the Antiocheia Ad Cragum Imperial Temple Excavations Professor Michael Hoff noted that the ancient city was large and had a rich history.
Taking into account the current state of events and facilities in the area, Hoff said that the excavations would take about 300 years to completely unearth the ancient city.
Antiochia ad Cragum was founded by Antiochus IV Epiphanes around 170 B.C.
Excavations at the site have been ongoing since 2005.
In today's world, brands have become one of the determinant factors to build a successful business.
Brands first appeared in Europe around 13th century. For example, the Roman glassmaker Ennion used watermarking to brand his works around the 13th century A.D.
The discovery in Turkey suggests that ancient people even had their own way of advertising, used catchphrases and logos.