A tomb believed to be of a Karakhanid han was unearthed in a joint excavation by the Turkish Cooperation and Coordination Agency (TIKA) and the Kyrgyzstan-Turkey Manas University (KTMÜ) in the Naryn region in the north of Kyrgyzstan.
The tomb was unearthed near the Kum-Döbö village in Kochkor district in excavations carried out to uncover monuments built during the Karakhanid Khanate (804-1212).
Dr. Osman Eravşar from Akdeniz University said that they found the five-meter-deep tomb with a square bottom in Naryn, known to be an important settlement during the Karakhanid era.
"This is the first time we've encountered such a structure in Kyrgyzstan. Along with this discovery, there are signs that there are also other structures [hidden] in this region," he said, adding that the unearthed tomb represented the Karakhanids' transition from cairns to elaborate mausoleums.
Eravşar said the excavation was still in the early ages and that only 70 percent of the tomb had been unearthed. He added that the next stage will be to conserve and restore the historic structure.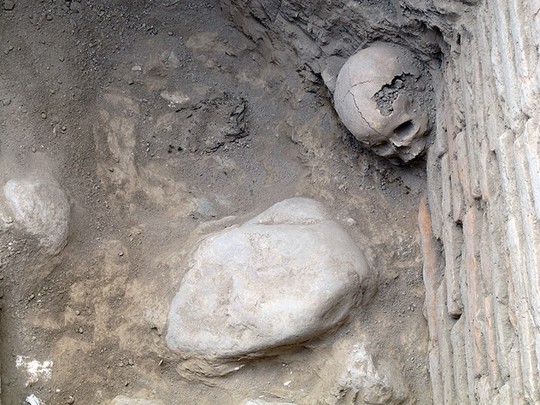 Kyrgyzstan-Turkey Manas University Faculty of Literature History Department Professor Dr. Kubatbek Tabaldiyev said they were trying to identify whom the tomb belonged to but they had still not found a headstone to confirm.
Tabaldiyev stressed that the revealing of the historical architectural structure - with the support of Turkey- was a crucial discovery not only for Kyrgyzstan and Turkey but for the countries and peoples of the entire Central Asian region.
The Karakhanids were the first Muslim Turkish state beyond the Syr Darya. The most important work from the period is "Qutadghu Bilig", written by Yusuf Khass Hajip in the 11th century for the Prince of Kashgar. The text has stories about the author and his society's beliefs, feelings and practices with regard to many topics, and depicts interesting facets of various aspects of life, as well as state issues in the Karakhanid Empire. It has often been described as a Central Asian version of the Mirror for Princes genre.