Excavation teams, using information from famed Ottoman explorer Evliya Çelebi's travel guide, are continuing work along one of Anatolia's longest underground water passageways in northeastern Turkey, unearthing the lost history of a millennium old Turkish neighborhood in the process.

Atatürk University-sponsored archaeological digs have been ongoing in the Mengücekliler district of northeastern Turkey's Erzincan for the past six years, especially around Kemah Castle, an area where early Turks migrated from Central Asia.
With assistance from the Turkish Ministry of Culture and Tourism, significant historical monuments and remains have been unearthed throughout the excavations.
Among Anatolia's longest historical water tunnels, which stretch for about 350 meters between the Kemah castle and the Tanasur stream, a 1,000-year-old Turkish neighborhood has been one of the teams' major discoveries.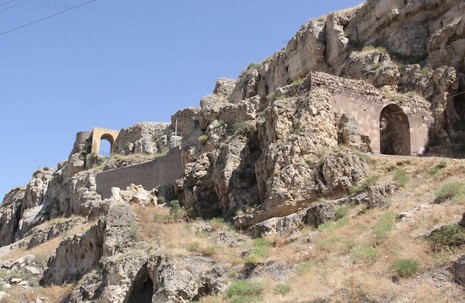 Dr. Hüseyin Yurttaş, head of Atatürk University's Art History department, told Anadolu Agency that a book entitled "Seyahatname" (Book of Travel) by Evliya Çelebi has been a guide to the excavation work.
Yurttaş said that according to Çelebi's book, there were 600 homes in the castle, as well as 11 houses of worship and 3 minarets.
"We have slightly departed from what Evliya Çelebi told us, and have started guiding that path ourselves. We discovered an approximately 1,000-year-old Turkish neighborhood through the excavations in Kemah."
The excavations have revealed that there were water tunnels in the upper Euphrates region, beginning from the Kemah Castle at a height of 1,053 meters above the sea level and moving to the Tanasur stream, down to a level of 50-60 meters, which indicates the water needs of past residents.

Emphasizing that one of the most important historical features of Kemah Castle were these tunnels, Yurttaş continued, "These water passageways were built with vaults in place."

"The tunnels are the longest in Anatolia, and according to our measurements, the tunnels stretch to around 350 meters still today. Because they are in ruins, it is difficult to reach them, but they are most visible from Kemah Castle," he said.
An assistant in the excavation team, Muhammet Lütfü Kındığılı, also said that they had discovered the structure of a kiln, which alluded to the production of ceramic pieces belonging to the Byzantine period from the 12th and 13th centuries.
He added that the most important findings this year were discovered in the hamam (Turkish bath) structure found in the area.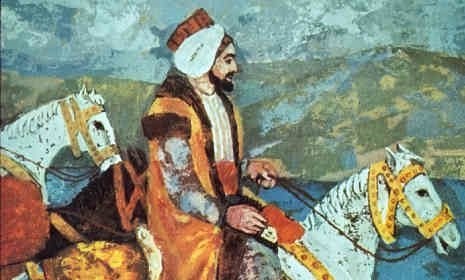 Evliya Çelebi was an Ottoman traveler, who voyaged through Ottoman territory and neighboring lands over a period of forty years in the 17th century. He recorded his commentary in a ten-volume travelogue called the "Seyahatname."
Born in Constantinople in 1611, Evliya was a devout Muslim opposed to fanaticism, who could recite the Quran from memory. He was employed as an entertainer to the Ottoman court, but eventually refused employment that would keep him from travelling.