In the Turkish city of Pamukkale, once known by the ancient Romans as the city of Hierapolis, restoration works have begun at Pluto's Gate. That is the archaeological site situated in the Ploutonion believed to have been used to perform sacrificial rituals on bulls, as were common at the time of its construction.
The bulls were sacrificed to the God Pluto using toxic gases of the underground. Described by sources from ancient times as "the passage to the underworld," the area was discovered by a team of Italian archaeologists four years ago and excavations are still ongoing.
Italian researcher and University of Palemo Professor Francesco D'Andria, who lead the team of archaeologists, spoke about their findings. He pointed out that he previously discovered the grave of Saint Philip, one of the 12 apostles of Jesus Christ, as well as a 2,000-year-old ancient theater.
Professor D'Andria said that he has assisted in archaeological excavations at the site since 1977, adding that the Ploutonion complex was discovered shortly before his retirement.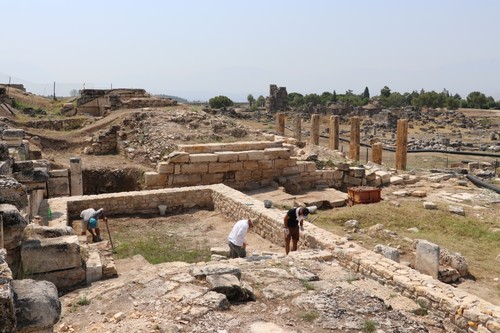 He said that restoration works for the Ploutonion project are ongoing, adding that they hope to open the site to visitors next year.
"The Ploutonion [complex] in Hierapolis has unique archaeological value. Toxic gases are released from the thermal springs at the site of Pluto's Gate. We even see small animals and birds die when they are exposed to the gases here," he said. "In ancient times, the Romans believed that this place was the gateway to hell. Bulls were sacrificed here, according to ancient writings." Implying that it is dangerous to undergo restoration because of the toxic gases, D'Andria stated the site will be suitable for visitors next year. "This site is slightly dangerous since the emission of toxic gases still continues. It can be harmful to tourists - so we are constructing a closed space suitable for visitors, complete with a controlled entrance. We are preparing a route. The Portico, ancient theater and the Ploutonion can be visited by tourists on this route. Groups of tourists will get to sit in the ancient theater and will receive information about the ancient rituals from experienced guides," he said.
'Turkey is my second homeland'
D'Andria said that he had told archaeologists and academicians from countries worldwide about the Ploutonion project to attract them to the site. He also added that the modern-day city of Pamukkale will have a touristic value with the completion of the Ploutonion project. Saying that he will continue to support the works and expressing that he finds it difficult to leave Turkey, D'Andria said, "I love Turkey very much. It is my second homeland. I love Turkish culture, the archaeological sites here and [the ancient city of] Hierapolis. I am from Hierapolis, from Pamukkale, from Denizli. I will continue to support this place."