In collaboration with Koç University's Research Center for Anatolian Civilizations (ANAMED) and Performistanbul, Nazlı Gürlek's performance titled "ONE" will be presented on Saturday, Sept. 23 from 5-8 pm at ANAMED in Istanbul. The performance is inspired by a wall painting discovered in Building 80 in the Çatalhöyük excavation area.
The performance is organized in parallel with ANAMED's exhibition titled "The Curious Case of Çatalhöyük," which celebrates the 25th excavation season of the Çatalhöyük Research Project.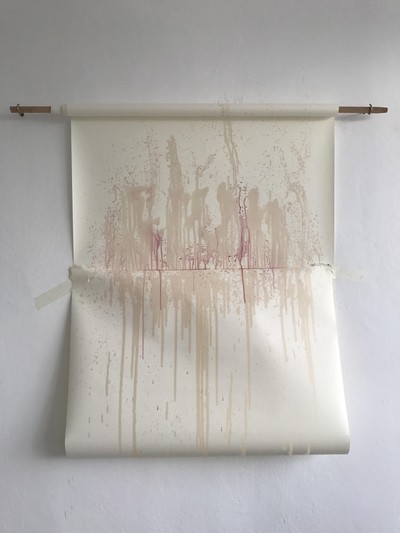 "ONE" by Nazlı Gürlek is a performance project inspired by a wall painting dated to around 6500 BC. The wall painting is considered to have been created as a part of a ritual. Gürlek brings the 9,000-year-old Çatalhöyük archaeological find back to life and presents it to the audience from an artistic point of view.
The project is also an attempt at an artistic adaptation of the archaeological methodology of the Çatalhöyük project based on "reflexivity, interactivity, plurivocality and contextuality."
Gürlek re-creates the ritual by bringing three different ways of expression, including painting, documentation and movement together: two 9-meter rolls of paper with drawings inspired by the Çatalhöyük painting, visual documentation of the excavation process showing the unveiling of the painting and a live performance based on the bodily movements of a performer. The performance will take place on the terrace on the third floor of the ANAMED building for three hours, saluting the sunset and will be open to the public for free.
"Archaeological finds show that in Çatalhöyük, all the buildings were being used for residential purposes and that the society was organized by routine rituals including a rich production of wall paintings that were also conducted in these buildings. Çatalhöyük paintings feature abstract patterns composed of repetitive geometrical forms drawn with almost mathematical sharpness. However, the painting that I am referring to in this performance is different from the others. In this one the repetitive geometrical forms are replaced by untidy, flowing patterns and gaps. This painting reminds me of continuously flowing rivers, the energy of life seen in nature and in the human body, the power of creation and the limitless power of life. In this sense, 'ONE' investigates the meaning of this painting and what it tells us today, and it invites the audience to explore the meaning of the painting in their own terms," Nazlı Gürlek said commenting on her performance.