A new project aiming to revive the ancient harbor of 10th century B.C. city Ephesus will soon be launched after bidding process is completed, reports said Monday.
The Ancient Canal Project at Ephesus, considered to be one of the greatest historical sites in the world will connect the ancient harbor with the sea after centuries, 2nd District Head at State Hydraulic Works Ali Fuat Eker told the Anadolu Agency.
Eker said that some 6,130-meter-long portion of the canal was covered with alluvium over the centuries, but the project will expand the canal and reunite the ancient harbor with sea.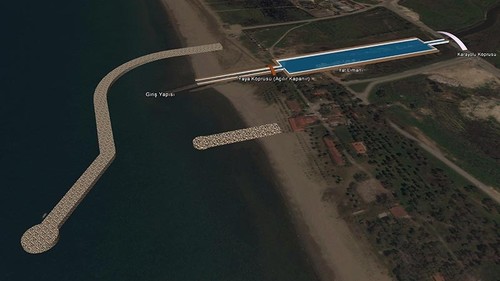 The tender for the project will be held Oct. 19, 2017, Eker said, noting that the first stage will focus on a 600-meter-long and 30-meterwide inlet channel.
The construction is expected to start in February or March 2018 and the project is expected to be completed by March 2019.
Officials have noted that the project will enable easier access to the ancient city of Ephesus and will boost the number of tourists visiting the ancient site.
Located 3 kilometers southwest of present-day Selçuk in İzmir, Ephesus was inscribed on UNESCO's World Heritage list in 2015.
UNESCO defines Ephesus as the ancient city situated on the coast of Ionia and dating back to the sixth century B.C., being one of the 12 cities of the Ionian League and the third largest city of Roman Asia Minor.