A sports facility dating back to the Roman period was unearthed at a construction site in Sarayönü district in southwestern Turkey's Konya province.
The facility was discovered when an individual preparing to construct a building in his private land located near the ancient city of Laodicea, contacted the local museum directorate for a construction permit to determine if his estate was located on a protected site.
Museum officials noted that his land sits on a Grade 3 archaeological site, and launched excavations, unearthing an intricate geometric-patterned mosaic from the 373-square meter dig, according to Anadolu Agency.
Ten days of excavation by Konya Museum Directorate crews uncovered mosaics, columns and column bases in the area.
The head of Konya Museum Directorate Yusuf Benli said that the site is extremely unique as geometric mosaics are rarely found in the city.
Sarayönü Mayor Nafiz Solak noted that they are preparing a project for the site's protection and make sure that it is open to visitors after excavations are done.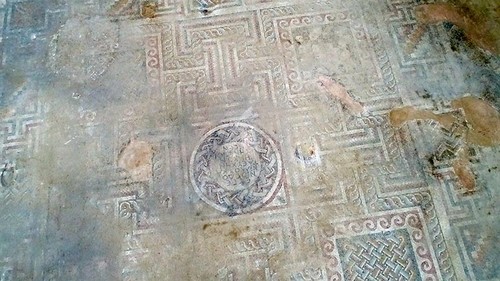 Expressing his excitement about the finding, Solak said that the site is located near the Istanbul highway, which will enable many people passing by the city to visit.
Laodicea is currently on the tentative list of the UNESCO World Heritage Sites in Turkey.​
In March, the restoration - currently being conducted in the ancient city- was awarded the European Union Cultural Heritage Jury's special award.
Regarded as one of the most important ancient cities in Anatolia, Laodicea is home to one of the Seven churches of Asia mentioned in the Book of Revelation.