Uzunköprü, a district named after a long bridge in Turkey's northwestern Edirne province, will apply to Guinness World Records to register the historical stone bridge in the book of world records.
Mayor Enis İşbilen told Anadolu Agency that they submitted an application to Guinness, after taking measurements of the bridge, which he claimed is "the world's longest stone road bridge."
İşbilen noted that they previously applied for the world's longest bridge title, but that was already claimed by a longer bridge in China.
"We just submitted a new application as the world's longest bridge that allows vehicle passage, which includes the width of the bridge" İşbilen said, noting that the bridge in China is not a road bridge.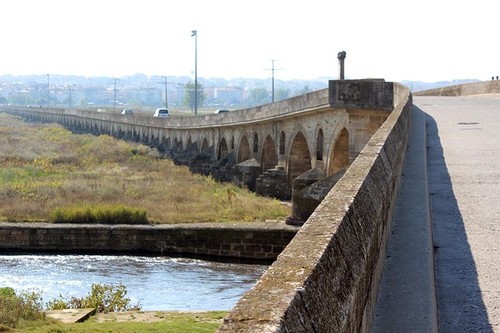 Vehicles pass through Uzunköprü Bridge in Turkey's Edirne province (AA Photo)
Officials expect that the bridge's registration in Guinness will boost tourism in the town.
The bridge is also on UNESCO's Tentative List for World Heritage, and requires immediate restoration work, as there have been cracks in its aqueducts, İşbilen said.
"It needs immediate restoration before permanent damage is done to the bridge" İşbilen added.
Restoration works are expected to take three years and are necessary to make sure that the historical bridge survives centuries.
Located on the Ergene River, and formerly known as Ergene Bridge, Uzunköprü is a bridge that connects Turkey to the Balkans and Europe.
Uzundere town's history dates back to the Neolithic Era (8000-5500 B.C.), while the bridge was built by Ottoman Sultan Murad II in the 15th century.