Göbeklitepe, which is on the tentative list of UNESCO World Heritage Sites, is expected to be registered on the UNESCO World Heritage List permanently next year. Discovered during excavations by researchers from Istanbul and Chicago universities, Göbeklitepe is located near the neighborhood of Örencik in Şanlıurfa, 18 kilometers from the city center, and excavations have continued for 54 years.
Accepted as "the oldest temple in the world" by many international institutions and primarily by the Ministry of Culture and Tourism, Göbeklitepe was registered on UNESCO's Tentative List five years ago. It will also be Turkey's nominee at the 42nd World Heritage Committee Meeting in 2018.
Construction of a steel roof measuring 4,000 square meters at the site should be completed shortly amid efforts to preserve Göbeklitepe in a healthier way as final preparations for the UNESCO nomination are being made.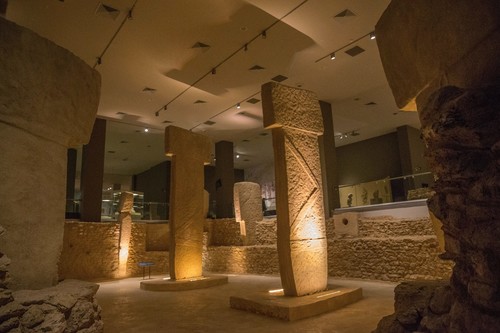 Amid the excitement that overlies developments in the city, the Göbeklitepe governorship, the municipality, tourism professionals and non-governmental organizations (NGOs) have initiated various campaigns to promote Göbeklitepe. Thanks to these campaigns and tourism, Göbeklitepe is expected to be registered on the UNESCO World Heritage List permanently in 2018.
As the site has been temporarily closed to visitors due to the roof construction, visitors can see imitations of Göbeklitepe at the Şanlıurfa Museum Complex, which has earned its title as "The Biggest Museum in the World."
A kind of cultural locomotive for Turkey
Speaking to Anadolu Agency (AA), Şanlıurfa Director of Culture and Tourism Aydın Aslan implied that the 6-million-euro project in Göbeklitepe was supported by the EU.
Aslan said that construction of the steel roof and the arrangement of an activity center for visitors continue as a result of this sponsorship, noting: "We are preparing Göbeklitepe for 2018. It will be the nominee of Turkey at the 42nd World Heritage Committee Meeting, which will be organized in 2018. Preliminary examinations have been completed, and it is likely that we will be on the list in 2018."
Explaining that the site's official register on this list will provide feedback for the region, Aslan added: "When you are on this list, a roadmap of 'places that you should see in the world' is drawn for you. Thus, we expect the number of visitors and the level of global attention for Göbeklitepe among foreign tourists to increase in 2018. In short, Göbeklitepe is a historical site that will be the locomotive of cultural tourism not only for Şanlıurfa province but also for Turkey."
Saying that work in the area continues to be conducted sensitively, Aslan indicated that this work will be completed in November, and the area will then be open to visitors.
Göbeklitepe strongest nominee
Şanlıurfa Metropolitan Mayor Nihat Çiftçi noted that Göbeklitepe is the most important part of the project "History Awakens."
Pointing out that Göbeklitepe is the first place that is offered for the UNESCO List, Mayor Çiftçi added: "Göbeklitepe is the strongest nominee. We are making the required preparations. A permanent delegation of experts from UNESCO will come to Turkey to observe the work
in place in the coming days. We consider Göbeklitepe to be a site of world heritage. It is where settlement, meeting and worship began. In a sense, it is also the place where humanity came into being. When we talk about this place, we are talking about a site with a 12,000-year history."
Çiftçi said that Göbeklitepe is a chance for Şanlıurfa, and they want to identify it with the city and promote it.
"We hope that Göbeklitepe will be officially registered in 2018, and we anticipate receiving positive feedback on this expectation," the mayor said, stressing the importance of attracting attention to the region.