Stone artifacts discovered during excavations at the site of the ancient city of Stratonicea undergo extensive restoration work at an exclusive "stone hospital," Anadolu Agency reported Tuesday.
The artifacts at the 3,000-year-old ancient city are restored by a group of experts including archaeologists, conservators, and restorers, said Professor Bilal Söğüt, who leads the excavations at Stratonicea.
Söğüt noted that the stone hospital successfully restores all artifacts, including friezes, funerary steles and tomb stones discovered in the ancient site, located in southern Turkey's Muğla province's Yatağan district.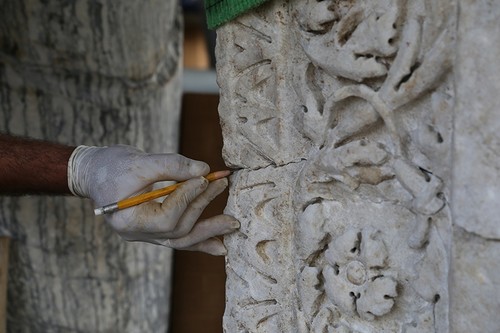 For instance, the hospital is able to recover an artifact divided into 50 pieces in 10 days and the process is applied to all sorts of stone artifacts.
The artifacts are placed back to their original place if experts believe they won't be damaged, and are carefully preserved until experts ensure that they will not be damaged, Söğüt added.
Stratonicea was one of the most significant cities around the region of Caria, and dates back to 281 B.C.