One of the world's biggest mosaic museums, Gaziantep's Zeugma Mosaic Museum, has welcomed thousands of visitors from around the world to southeast Turkey. Many art aficionados are now opting for a hands-on experience, signing up for a mosaic-making course in the city.
Participants in Gaziantep Municipality's Art and Vocational Training Courses (GASMEK) aim to mimic the style of the ancient mosaics, particularly the figure of the captivating "Gypsy Girl" seen in the museum.
Demand for courses is on the rise, with 500 trainees attending courses in the last three years.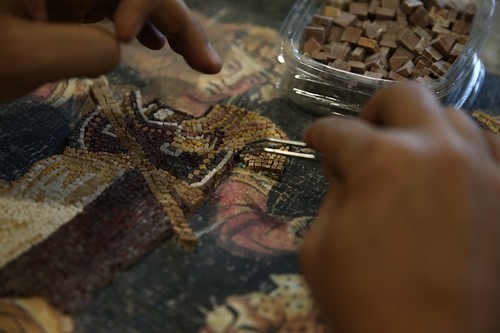 Many enrollees become interested after being awed by the ancient masterpieces at the museum, GASMEK mosaic course instructor Hülya Türkmen told Anadolu Agency.
"After seeing the Zeugma Mosaic Museum, people want to make the art [themselves], especially those exhibited [in the museum]."
"People pour their special memories into the mosaics," said Türkmen. "Mosaics rest on your soul."
Courses run for three months four times a year. Given the high demand, Türkmen said those who have the most time to devote to learning are given priority in enrollment, namely university students and retirees.
"I have students who have been here for years," said Türkmen.
Various mosaics, including the iconic the Gypsy Girl, are on display at the 30,000 square meter Zeugma Mosaic Museum in Gaziantep, southern Turkey, which has attracted visitors from around the world since it opened in 2011. The Gypsy Girl's disheveled hair, prominent cheekbones and haunting eyes have become an icon of the city.
The ancient city of Zeugma was founded in present day Gaziantep by one of Alexander the Great's generals in 300 B.C. and was conquered by the Roman Empire in 64 AD. It is known for its wealth of ancient Greek mosaics, frescoes and artifacts.