Two tablets describing the Seljuk conquest of Turkey's southern Antalya region were discovered in the garden of a rundown building in the province's historic Kaleiçi district.
The accounts of the conquest by Kaykhusraw I, who reigned as Sultan of Rum from 1192-1196 and 1205-1211, were inscribed on an entrance column to a dilapidated former entertainment building.
Researcher Necmi Atik, who discovered the inscriptions, said historians had been searching for the lost pieces for about 100 years.
The tablets were last seen in 1924 and their whereabouts had been unknown until now, he added.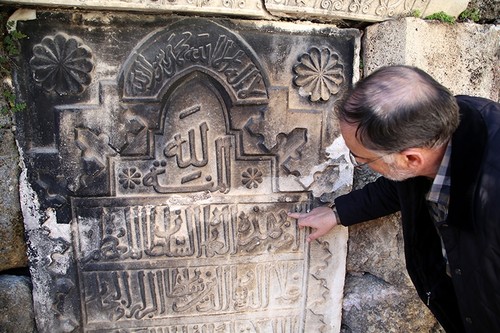 Atik said 27 of the 43 known accounts of the conquest are inscriptions on stone structures and had previously come under the protection of Turkish authorities. Another seven manuscripts are on display in the Antalya Museum. Of the nine other missing accounts, two were found in the garden.
"The accounts we found are the second and third books of the conquest," Atik said.
Authorities at the Antalya Museum announced that they would move the pieces into their collection after completing necessary inspections of the places where they were found.
Kaykhusraw I seized Antalya from the grip of the Nicene Empire in 1207. The same year, the sultan established a mosque there.
The inscriptions were commissioned by Sultan Kaykaus I, who ascended to the throne in 1211 and ruled until his death in 1220.
The Sultanate of Rum was a Turko-Persian Sunni Muslim state established by the Turkic Seljuk Empire in parts of Anatolia conquered from the Byzantine Empire.
The sultanate controlled central Anatolia from the Mediterranean port of Antalya to the Black Sea port of Sinop until its disintegration in 1308.