Archaeologists have discovered a well-preserved ancient tortoise shell inside Roman burial chambers from the second century A.D. during excavations in the Bulgarian city of Plovdiv, reports said Tuesday.
According to reports, the burial chambers were discovered in the western necropolis of the ancient city of Philippopolis, located near the city's medical school.
Measuring 1 meters in width and 2 meters in length, each burial chamber was made out of bricks and was covered with stones.
One of the burial chambers was robbed, while the other two were untouched when the archaeologists unearthed them, Habertürk daily reported.
Regarding the discovery of the tortoise shell, archaeologists noted that it could have been buried with one of the deceased humans.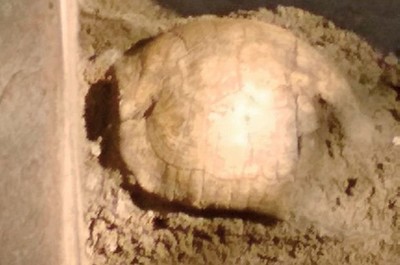 Archaeologist Murat Sav noted that tortoises symbolized mythological gods, which could imply that there was a relation between the deceased person's beliefs and the tortoise representing that god.
This is not the first time archaeologists discover tortoise shells inside burial chambers. For instance, 21 tortoise fossils were found inside a cemetery in an ancient Assyrian settlement mount located in Turkey's southeastern Diyarbakır province.