Frozen pizzas are named after him, car dealerships, restaurants, computer games. The beloved comic figure Snoopy atop his dog house was aiming for him. Children can construct his famous Fokker fighter plane from Lego bricks.
Manfred Freiherr von Richthofen, the legendary German World War I flying ace, was celebrated like a pop star during his lifetime. Today he is cult figure, a label and legend all in one.
In his trademark bright red bi-planes and tri-planes, von Richthofen shot down around 80 enemy aircraft in air battles over France. Back home, they hailed him as the "Red Baron" while his enemies had another name - the "Red Devil" - both fearing and respecting him. He was hyped as a heroic knight of the skies. Later, the Nazis exploited his name for propaganda purposes.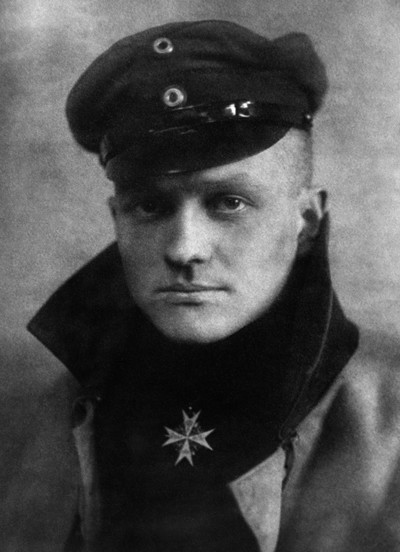 There is one scene that has been portrayed in countless stories and films, with von Richthofen flying his Fokker and scanning the skies for enemy planes. He manoeuvres his tri-plane behind an English fighter and starts firing. But when he sees that his opponent's machine gun is blocked, rendering him unable to defend himself, the Red Baron stops shooting and instead forces the Englishman into landing his plane in enemt territory.
Back on the ground, von Richthofen then offers the enemy pilot a cigarette. Sporting spirit, chivalry, nobleness - so the underlying message about the German flier.
Some people have their doubts. For example, there's historian Joachim Castan, who wrote a comprehensive biography of von Richthofen and who is dubious about the knight-in-the-skies myth. It is uncertain just what happened up in the sky back then, he says about the legendary cigarette episode.
There were also cases when the baron fired away at incapacitated opponents. In fact, of the more than 100 pilots and crew that he shot down, only 33 survived, the historian says. Castan's conclusion is that propaganda was a cover-up for the personality. Von Richthofen was above all a keen hunter. He collected trophies and sought fame. The young German saw the air fights as competition. Born in 1892 in what was then Breslau - modern-day Wroclaw, Poland - he was a passionate hunter from his earliest days. Other passions were alien to him. Women, for instance, played no role in his life, despite his many female admirers.
In 1917, four months after he recorded his first downing of an enemy plane, an entire flight squadron was put under his command. Today, the German military's Air Force Squadron 71 in the northern town of Wittmund is named after vin Richthofen.
People in Wittmund are proud of him. A red "R" is painted on their planes. Commanding officer Kai Ohlemacher says von Richthofen is part of the soldiers' identities, standing for values like comradeship and duty. Beyond that, Richthofen's air tactics are still a point of reference for military strategists today.
Amid a scandal surrounding an extreme right-wing soldier in its ranks, the Germany's military is currently worried about its historical image, above all regarding the period of the Wehrmacht in Nazi Germany. Still, the soldiers in Wittmund regard von Richthofen as a role model.
Ohlemacher says they are looking at the person of von Richthofen and not the regime. This is in keeping with a new waiver of tradition in the unit, so that on the 100th anniversary of von Richthofen's death he will be honored in Wittmund.
Castan concedes that all the fuss is about the most successful fighter pilot in World War I. "He was doubtlessly fearless. Cold-blooded as well." For von Richthofen, it was above all about how many planes he shot down.
"I do not see any heroic aims in him," Castan says. The historian regards the account of clean air warfare as a myth. In war, pure brutality rules.
Von Richthofen found this out himself one day. In the summer of 1917, he took a bullet to his forehead. The bullet paralyzed and blinded him for a few moments, but he managed to land his plane before falling unconscious.
Against the advice of doctors, he was soon flying again.
On April 21, 1918, at the age of 25, he was shot down and killed over northern France - not in some epic dogfight, but by machine-gun fire from the ground as he was flying behind enemy lines.
According to some researchers, the Red Baron had become more foolhardy due to his head wound, and one dare-devil maneuver too many led to his demise.
To this day, the exact details of his death, in keeping with the myth, have never been clarified.