The museum, which is in Emirgan Grove, was opened by the Istanbul Metropolitan Municipality Istanbul Tulip Foundation (ILAV) to transfer the cultural asset of tulips to the next generations.
Housing two exhibition halls inside, the museum has an area of 1,500 square meters. It is possible to see a plow used to plant tulips, a sieve to clean out tulips, a tulip motif on a manuscript, a tulip brooch, a dried tulip, a sultan kaftan with a tulip motif, and other goods having tulip motifs on them, such as war materials and a handkerchief in the museum.Visitors have the opportunity to paint tulip-designed marbling in electronic media and print it here as well.
ILAV Science Council Member İsmail Hakkı Gülal said the museum was established to bring tulips the place they deserve in Turkish culture.
"It is the biggest tulip museum in the world. Tulip is a flower that we brought from Central Asia. Why do we appreciate tulips that much? What place do tulips have in our culture? This museum tells all of them to us," Gülal continued.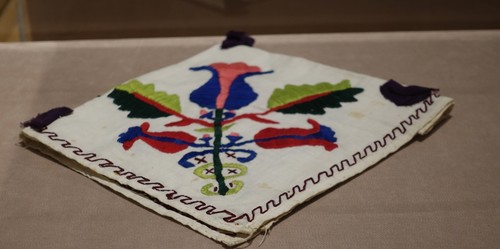 A handkerchief with embroidered tulip.
Implying the main theme of the museum wants to show that tulips belong to not only the palace culture but also the public culture, the mayor added, "There are some wooden and textile examples about it. Handmade lace and examples from some Anatolian villages took place in here. There are tulip figures ornamented on the pediment of the horreos. Some examples, such as tiles and kaftans, from the palace can be seen, as well. Everything in the palace is a reflection of the public's culture."
Noting the place of the museum had been used as a logistical center for the mansions in Emirgan Park, Gülal said it became inactive later.
Stressing the place was restored in 2010, Gülal reported, "We thought it as the center to introduce the culture of tulips as it is near Emirgan. The Tulip Foundation has been active in here since 2013. The foundation opened this museum in 2015. We try to make it a center where you can find everything about tulips. The museum comprises of four sections. It has museum and exhibition halls. We also have a library and a shop where gifts related to tulips are sold. A cafe welcomes the visitors, as well."
He remarked the museum has won recognition since the day it was opened and this makes them satisfied.
"We conduct a joint project together with the Ministry of National Education. We transfer the culture of tulips to children. Actually, our target group is primary and secondary school students. We start from these very early ages. We firstly make them touch the soil. We took the children in November and December. We have a place that reserved for us in Emirgan Park. In this area, children plant tulip bulbs and put a sign on which their names are written near these bulbs. They see their own tulips, coming again in the spring. They brought their parents, as well. Then, we tell them why we do this, bringing them to the museum. We have a film that has been prepared together with pedagogues and can be understood by children," he continued.
Reminding of the tulip museum in the Netherlands, Gülal stated, "People generally see agricultural objects there. Tulips are neither an agricultural material nor a landscaping thing for us. It is a culture for us. It has a place in everything in our culture. You can see them on our tourism logo, money, mosques, gravestones and ornaments of fountains."
The entrance fee for the museum is TL 5 ($1.22) and the mayor invited everyone both to visit Emirgan Park and the museum.
Saudi Arabian Faisal Abbas, who visited the museum together with his wife, said the idea of a tulip museum affected him very much.
He indicated that he got much information about this precious flower in this museum. "I observed that the motif of a tulip is used on everything, including clothes. Tulips have many names. I have learned it for the first time here," he said.
Tulip Festival
The 13th Tulip Festival kicked off in Istanbul on April 2 and is scheduled to continue until the end of the month. Some 30 million tulips were planted across the city for the festival. Workers adorned Emirgan grove alone with 3.5 million tulips hauled from flower fields all across the country.
Moreover, the world's biggest tulip carpet is currently on display at Sultanahmet Square. The 1,734-square-meter tulip carpet is made of 565,000 tulips in different colors and creates a traditional Turkish carpet motif.