The Theodosius Cistern, which was restored by the Istanbul Metropolitan Municipality (IBB), has recently opened.
Speaking at the opening ceremony of the cistern, which is located on Pierre Loti Street, Istanbul Governor Vasip Şahin thanked everyone who contributed to the restoration works and Ahmet Nejat, who exhibited his works in the exhibition titled "Hiç Hali" (State of Nothingness) in the cistern. Şahin said, "Istanbul regains an important and 1,600-year-old construction which is being opened to service with a solemn, rare and modest presentation today."
Explaining that Istanbul has three different historical information sources as known, read and experienced, Şahin continued, "We are starting to live the Istanbul, which we cannot apprehend when we read, today. Therefore, Istanbul begins to show itself. It is decorated with important works which carry the traces of old civilizations and beauties again. We conduct works to reveal these works that are gifted to us by old civilizations as the Governor's Office, collaborating with the Ministry of Culture and Tourism, General Directorate of Foundations, IBB and other municipalities."
The governor implied that people have a chance to live in an Istanbul is richer and more beautiful than the previous one in which they lived 30 or 40 years ago. "Many historical works, which are surrounded by buildings or on which other constructions are built, have been revealed recently. The more awareness, experts and sources we have, the more beautiful Istanbul will be. In future, Istanbul will serve our country and humanity as a city that reveals the traces of civilizations."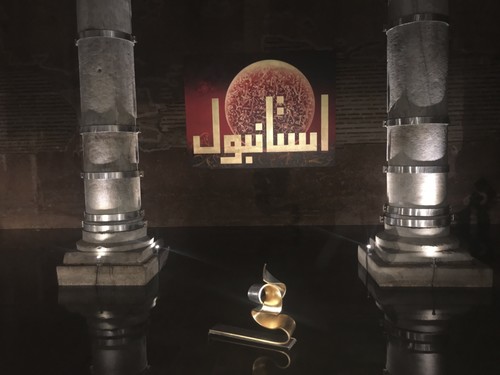 The cistern hosts an installation, adding to the beauty of the construction.
Explaining that one of the most important subjects for a civilization is water issues, Şahin said, "This cistern is one of the best works that show how water civilization was developed in these lands before the Byzantium and Ottoman periods and how it was protected and enriched as technically and architecturally by the Ottoman Empire."
Şahin reported there is no hesitation that the next generations will transfer this culture and tradition to the future as the descendants of people who protect historical works with a tradition transferred from the Ottoman Empire.
"If others had the cistern, it could have been demolished. We are proud that these values stand still in these lands. We have never seen any civilizations as our enemy and never tried to erase their traces. We both sustain their existence and produce new works, getting inspiration from them. Besides, we formed our authentic civilization. The civilization of these lands is actually a blended one. Our nation engraved the seal of culture and civilization to Anatolia and Istanbul," the governor added.
Istanbul's water problem solved
IBB Mayor Mevlüt Uysal noted, "We have cisterns that we have visited before in Istanbul. After the Basilica Cistern and Cistern of Philoxenos, the Theodosius Cistern has been added to the list."
Mentioning that it can be observed when historical works are seen that Istanbul played host to such a big civilization, Uysal continued, "Istanbul became the capital, hosting three different civilizations. Indeed, the cisterns are the witness and evidence of this. We know that water that was brought from outside and was stored like rainwater. Today, rainwater is stored without any dirt and turned into a reusable liquid."
Drawing attention to the cisterns that were built for water problems in the past are not opened for this problem today, Uysal stressed, "We do not mention any water problem in Istanbul. It is a joy for us that water problem in the city was solved although the population is nearly 15 million here. We will have no water problem for nearly 50 years. I want to thank those who contributed to this."
Cistern 100 years older than Hagia Sophia
Former Fatih Mayor Mustafa Demir reminded that the Eminönü Municipality building was located in the cistern before. Demir told, "We are in an amazing place in the Fatih district. This 1,600-year-old cistern is older than the Hagia Sophia and an important cistern. It is really perfect and has become a place where art reflecting our tradition inside is exhibited. It is not possible to find an example of it in the world. I thank everyone who contributed to the construction phase."
Giving information about the historical period of the cistern, historian Halil Fahri Yılmaz remarked, "It was built in the fifth century and has been known as the Theodosius Cistern since the 19th century. We see a cistern that stands still for nearly 1,600 years. Possibly, it, which features 32 columns inside, was built in the period of Roman Emperor Theodosius II."
Having been built in the period of Roman Emperor Theodosius between 428 and 443, the cistern was turned into a visual carnival with Iranian artist Ahmet Nejat's "Hiç Hali" exhibition, a golden globe on which Aşk ve Hiç" (Love and None) was written, a sound design made by the poems of Rumi and words reflected on water.
Opened to service after an eight-year restoration work, the Theodosius Cistern is an important destination for tourists. The construction will also hold cultural events.
An elevator for the elderly, impaired people and families with children has been built in the cistern, as well.