A 700-year-old Seljuk hamam, a traditional Turkish bath, in the ancient city of Stratonikeia in the Yatağan district of Muğla has been restored to its original state.
The upper parts of the Seljuk era bath in the 3,000-year-old city, which is also known as the city of gladiators, have been closed in order to prevent further damage. The other sections, including the entrance, changing room, hot room, warm room and the woodshed, have been placed behind protective glass.
Professor Bilal Söğüt, head of the excavations in Stratonikeia and an academic at Pamukkale University's Archaeology Department, told Anadolu Agency (AA) that the bath was built nearly 700 years ago. The date was determined using coins and ceramics found at the site.
He said that it was probably one of the earliest Turkish baths in the region.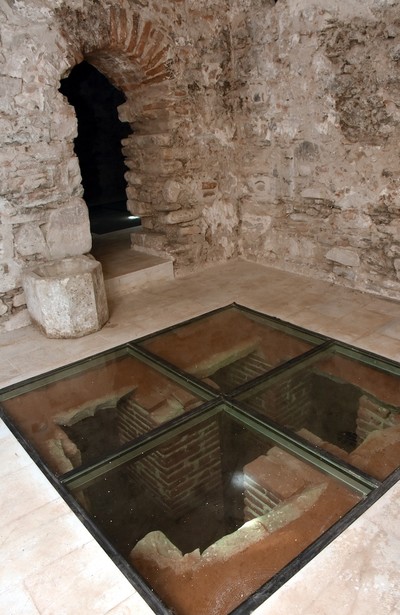 Sections like the entrance, changing room, hot room, warm room and the woodshed have been placed behind protective glass.
Söğüt added that the bath was unique and one the most important structures in the region. "We have carried out some through restoration work here. We prepared detail plans and drawings, keeping it as close to the original as possible.
"We are trying to protect each and every historic site in the ancient city of Stratonikeia. We have already discovered three Roman baths here. Then, we found this Turkish bath and started working on it. It was the only example that fully dates back to the local Beylik era. This is why we placed great importance on restoring it. The restorat
ions were very detail and true to the cultural richness of the ancient city. Our project received the support of the Southern Aegean Development Agency (GEKA)," he said.
The archeologist said that they also restored an early Republic era house along with the Seljuk bath.
He said that the bath, which has historical and cultural value, is one of the most popular structures in Stratonikeia.
Söğüt noted that after the restoration the bath has been opened to tourists. "Visitors are able to visit each and every section of the bath. They will be happy to be in such a historical building. We have planned a number of spaces where people can have a rest. We are also planning to open exhibitions.
He added that the bath will upgrade the bathhouse to the computer environment with 3D technology, he added, "Visitors can see the construction up close with 3D technology and see its all parts as the area in which they walk will be seen from below as they walk on glass."
He pointed out that the bath is located at the entrance of the ancient city, and therefore, people visit it first.
Stratonikeia, registered on UNESCO's Tentative World Heritage List, has many Seljuk and Ottoman-era buildings.