A spindle and a tool thought to be a razor blade made of obsidian from 8,000 years ago were found in archaeological excavations carried out at the Domuztepe Mound in Kahramanmaraş province.
Excavation of the mound near the Pazarcık district has been led by assistant professor Halil Tekin from Hacettepe University, Faculty of Literature, Archaeology Department and coordinated by Kahramanmaraş Museum Directorate since 2013 and carried out by a decision of the Council of Ministers since 2015.
Along with authorities from the Ministry of Culture and Tourism, university students participate in the excavations.
Starting as a British-American joint project in 1996, the excavations have been carried out by Turkish scientists since 2013, and very important findings regarding the belief system of those times have been uncovered.
Tekin told Anadolu Agency (AA) that the mound was a settlement that coincided with the final periods of the Stone Age.
There was a settlement at Domuztepe Mound that dates back 8,000 years, and Tekin said that there is a time gap of 4,000 years with this society and the society that first found metal 6,000 years with the first state and 7,000 years with the first empire ever known, namely the Assyrians.
Tekin added that there is a time gap of 6,000 to 7,000 years with the Romans and the settlement was established in the last stage of the Stone Age.
Noting that tools made of obsidian were found in this year's excavations, Tekin said that the civilization turned rock into a quality knife in the hands of expert hands.
Underlining the importance of this tool, Tekin said, "These and similar tools were possibly used as razor blades. This is a blade 8,000 years old. It may not be as comfortable as today's razor blade, but the people of that time gained this skill over time and were removing unwanted hair using this and similar tools. The evidence proves this.
8,000-year-old spindle
Tekin said that during the excavations a spindle possibly used by women to spin wool was found and that these objects were made of either stone or terracotta or clay.
He added that they have not found a women's skull dating back to those times, but if they do there will be traces of wear in the upper and lower jaws of women. "Because women use their teeth as their third hand when spinning wool in Anatolia and the teeth become abraded. This shows that women had mastered this skill and used their teeth to produce yarn."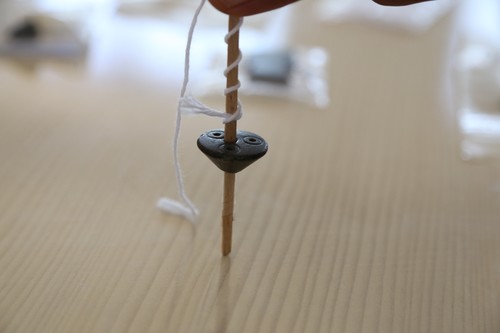 Director of Provincial Culture and Tourism Seydihan Küçükdağlı said that seven separate excavations were carried out in the area along with two rescue excavations, which started this year.
Noting that they were in the 16th season of the Domuztepe Mound excavations, Küçükdağlı added that they have completed excavation work on each layer that belongs to a different period.