The funeral for two terrorists accused of a series of bombings in Istanbul saw masked gunmen taking to the streets in a display of force by the Marxist-Leninist Communist Party (MLKP) on Wednesday.
Şirin Öter and Yeliz Erbay were killed in a dawn raid on Tuesday by anti-terror police when they opened fire on police squads closing in on them in Istanbul's Gaziosmanpaşa district.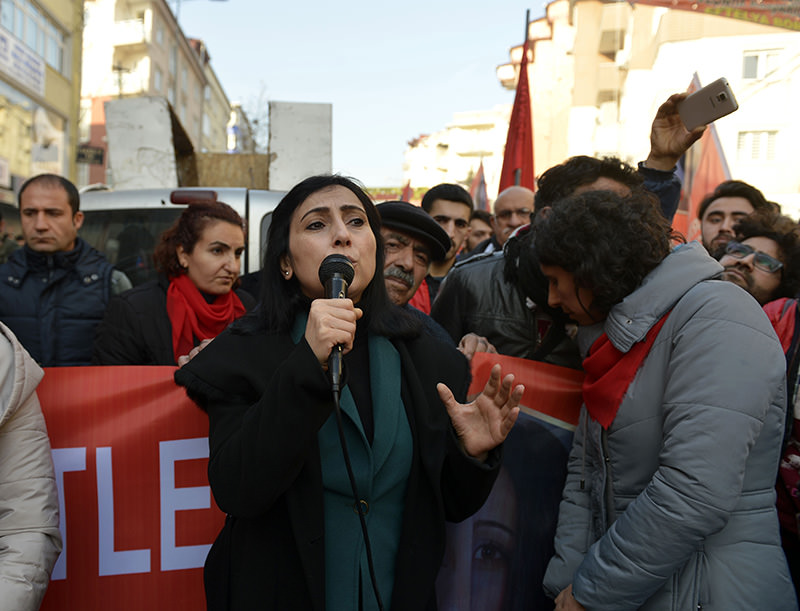 The two women were members of the MLKP. They were also former executives of the Socialist Party of the Oppressed, a fringe far-left party that Figen Yüksekdağ, a co-chair of the opposition Peoples' Democratic Party (HDP) once worked with. Yüksekdağ, whose party is associated with the PKK, another terrorist organization, attended the funeral in Istanbul along with a large crowd in city's working-class Gazi district. Along with a heavy police presence, the funeral ceremony was marked with people wearing masks searching those entering the street where the funeral procession was held.
The police flew a small drone over the crowd to surveil for possible riots, but people in the crowd shot it down.
As the coffins were brought to the cemetery, a group of men wearing red masks and carrying rifles emerged. The group avoided confrontation with police who stopped cars in the area and searched them for guns. Five people were detained.
Masked gunmen are a common sight, especially in demonstrations and funerals for members of terrorist organizations such as MLKP and the Revolutionary People's Liberation Party-Front (DHKP-C), another terrorist organization active in Istanbul.
Öter and Erbay were allegedly behind a foiled bomb attack on the Star Media Group in July. An explosive device left at the headquarters of the media conglomerate was noticed before it detonated and was defused by police. The MLKP claimed responsibility for the foiled attack on the media group, which is known for its anti-PKK coverage. The two women were also alleged masterminds of a deadly bomb attack on the offices of magazine earlier this year. The attack on Adımlar magazine, known for its ties to the Great Eastern Islamic Raiders' Front (İBDA-C) militant group, killed a columnist in March. The two women are also blamed for a non-lethal bombing targeting riot police in Istanbul earlier this month.
The MLKP, established in 1994, is designated a terrorist organization. Its first major attack was in 2004 when a bomb MLKP militants planted on a street near a hotel where visiting then U.S. President George W. Bush exploded, injuring several people.
The terrorist organization, unlike the DHKP-C, enjoys close ties with the PKK, which pursues a more ultranationalist line. The group had training camp in a mountainous area in Northern Iraq where the PKK is headquartered.