Two more suspects were arrested Saturday over Friday's gun attack targeting Turkish journalist Can Dündar, who was on trial in Istanbul's Caglayan courthouse on charges of revealing state secrets.
According to the Istanbul Police Department, the suspects were reported to be associates of the gunman arrested at the scene. Their arrest brings the number of detained suspects to three.
The assailant attempting to shoot Cumhuriyet daily Editor-in-Chief Can Dündar in front of Istanbul's Çağlayan courthouse on the European side was taken into custody on Friday, while a reporter from Turkish broadcaster NTV was slightly injured.
Dündar escaped the incident unharmed, while NTV reporter Yağız Şenkal was slightly injured from a ricochet bullet.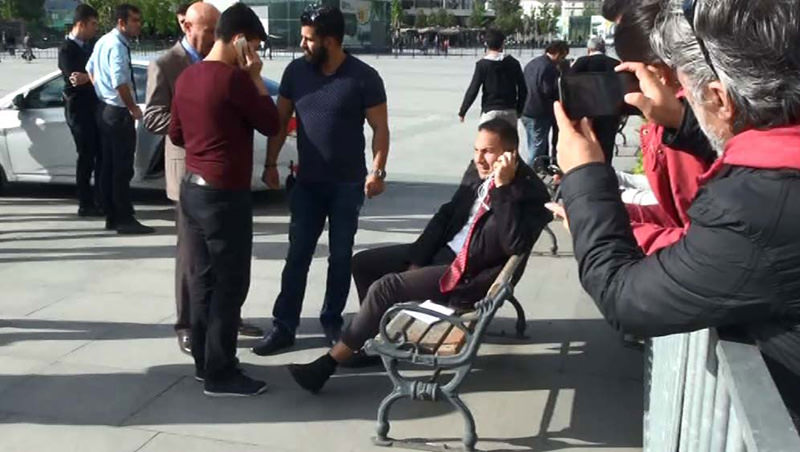 Minutes after the incident, Şenkal said in a NTV live broadcast that the assailant shouted incomprehensible things and fired at least three rounds.
Footage emerging right after the incident showed Republican People's Party (CHP) Çanakkale Deputy Muharrem Erkek clinging on to the assailant from behind to prevent further shots, while Dündar's wife Dilek Dündar held the assailant's collar. Seconds after, armed police officers arrived at the scene, and the assailant dropped his gun and laid on the floor.
Dündar told reporters who were already at the scene that he did not know who the assailant was, who shouted "traitor" at him before firing his gun. He said that his wife Dilek Dündar was the first to react to the assailant.
The assailant was identified as Murat Şahin, who has criminal records for willful injury charges. Şahin was brought to Istanbul police headquarters for questioning.
The incident took place when Dündar went out of the courthouse during the recess as judges in his trial convened to give the final verdict in the case where he and the newspaper's Ankara bureau chief Erdem Gül are being tried for espionage charges. The prosecutor seeks up to 31 years of prison sentence for Dündar, and 10 years for Gül, for "revealing or gathering information belonging to state that should be classified as political or military espionage."
It remains a mystery how the assailant breached through the several security corridors placed around the courthouse with his gun. On March 31, 2015, Mehmet Selim Kiraz, the prosecutor of Berkin Elvan case, was taken hostage and later murdered by outlawed terrorist organization DHKP-C members inside the courthouse. The courthouse was later renamed in the memory of fallen prosecutor, while security measures were revised for the giant courthouse complex.