The capture of Atalay Filiz, the high-profile multiple homicide suspect who was on the run for nearly three years and captured Sunday, started a weird string of events as multiple police officers and officials took selfies with the man dubbed as Turkey's first serial killer and posted them online.
First footage emerged on Sunday, the day the 29-year-old Filiz was caught in the resort town of Gümüldür in western Izmir province. Following his capture, Filiz was transferred to the police department building at the city center.
Two police officers, who were reportedly on duty for the police department of Ankara where Filiz is suspected to have committed his first murders, were seen taking selfies with the supect. Meanwhile, a third officer captured this moment in a video he later posted on social media.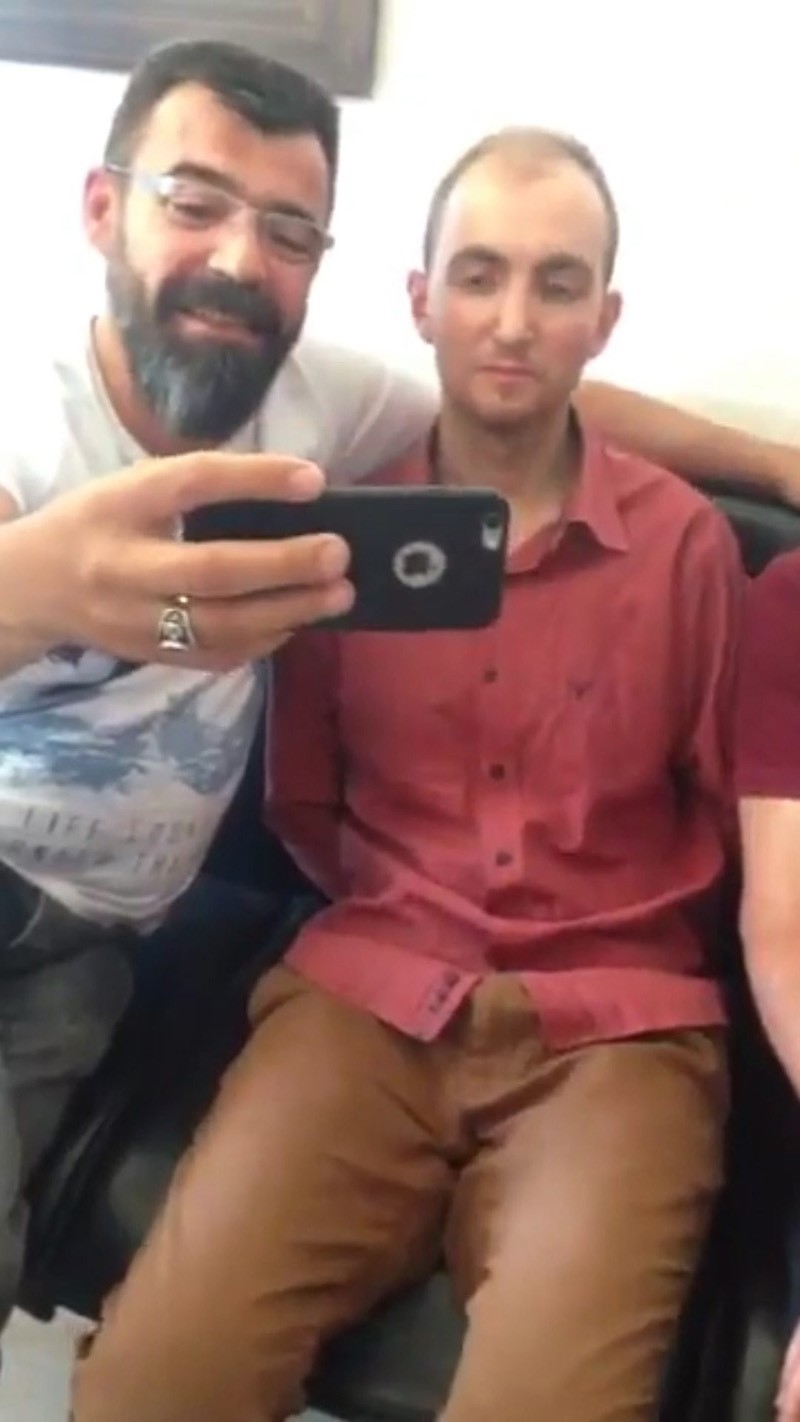 In the video, one of the policemen is heard saying to the handcuffed Filiz (sitting next to him), "Let's take a selfie". "I congratulate you. You managed to be on run for three years in this country, I don't know what to say to you anymore," the officer is further heard as saying while posing alongside Filiz.
The footage and the attitude of police officers drew public reaction and soon went viral among Turkish social media users. An investigation was launched into the incident, while three police officers were suspended from duty.
However, more selfie shoots with Filiz emerged on Monday, as various officials were seen to be inexplicably content with posing alongside the suspect.
One picture shows Filiz with a person believed to be a police officer inside a vehicle during the time he was reportedly being transferred to police department or hospital for health check. Another photo shows a private security guard when Filiz was probably going through a health check up at the hospital.
Meanwhile, several youngsters and citizens were also spotted posing for selfie outside the Izmir Police Department while Filiz was inside.
Filiz is an academic charged with killing three people in Turkey as well as a Russian woman in Paris, with reports suggesting that the ex-fugitive might be a serial killer although criminal experts say that he falls into the category of psychopathic killer.
Filiz's name first appeared in police records after he was suspected to shoot dead Göktuğ Demirarslan and his Russian girlfriend Elena Radchikova in their Ankara home in 2013. Filiz was a close friend of the couple and the three had studied together in Europe. Filiz and Demirarslan met Radchikova and Olga Seregina while they were in France and soon became couples. Seregina was reported missing in 2011 after disappearing in Paris and Filiz is the prime suspect in the case. Authorities believe Filiz was in love with Radchikova and killed both her and Demirarslan when she refused his advances, while the possibility of Filiz killing the couple for their possible knowledge about Seregina's murder is also being taken into consideration.
Filiz reportedly fled to Europe after the murder. On May 27 his name resurfaced, after Fatma Kayıkçı, 40, a history teacher, was found dead near her apartment in Istanbul's Tuzla district. Investigators named an individual known as Furkan as the suspect, yet this was only one of the many fake identities which Filiz adopted while he was on the run. He was spotted carrying a bulky suitcase, containing the body of Kayıkçı, after he reportedly stabbed her to death in her apartment. Filiz was reported to have worked briefly for Kayıkçı's husband and was reportedly staying at an apartment belonging to the Kayıkçı family. Police believe he murdered the woman when she grew suspicious of his real identity.
In his initial confession to the police, Filiz confessed to the murders of Demirarslan, Radchikova and Kayıkçı, but refused any involvement with Seregina's disappearance.
The case received widespread media attention, with broadcasters portraying him as a smart man: multilingual, well-educated and an expert on survival techniques. These qualities raised public awareness of the murderer and fueled public vigilance.
Soon, tip hotlines across the country were flooded with calls to report sightings of wiry, strange-looking men. From Adana in the south to Burdur in the west, Filiz was apparently sighted everywhere. Ultimately, it was his military fighter pilot father's home in Izmir where authorities suspected he was hiding. Two alerted police when the suspect boarded their minibuses in Izmir's Menderes district on Sunday morning. When the police stopped the passenger minibus, the suspect reportedly did not resist and turned himself in, despite initially claiming that he was not the person they were looking for.