Abdulgadir Masharipov, Turkey's most wanted man for about 16 days, was captured alive late Monday in a successful operation by police in Istanbul. Masharipov was the assailant who randomly fired upon revelers at a nightclub killing 39 people. The intense manhunt started in an upscale neighborhood on the Bosporus shore in the early hours of New Year's Day and ended on Monday night in a distant suburb of Istanbul as police captured the suspect. His capture marks the first tangible progress in an investigation into the brutal attack and police hope to get more answers to an abundance of questions regarding the attack. These include suspicions of the role of an unnamed foreign intelligence service in the terror attack, the latest in the country rocked by a string of assaults by Daesh and the PKK.
Some 12 minutes after midnight, anti-terror police swarmed a housing complex in a gated community in Esenyurt, a suburb on Istanbul's European side popular among migrants. Heavily armed policemen stormed into a small apartment near a major highway straddling through the suburb. Inside, they found Masharipov, an unidentified Iraqi man, an Egyptian woman and two women from unnamed African countries. After a brief scuffle, police arrested the suspect and others. Turkish media outlets reported that Masharipov tried to hide under a bed, when police first raided the apartment, and later resisted arrest, while a photo of Masharipov with a bloodied, bruised face and blood stains on his shirt splashed the front pages of newspapers yesterday. Flanked by Istanbul Police Chief Mustafa Çalışkan, who personally oversaw the operation to capture the suspect, the city's Governor Vasip Şahin gave a detailed account of the operation and background of the suspect who confessed to the killings at Reina.
A photo of Masharipov distributed to the press showed the suspect with bruises, apparently as a result of resisting arrest.
Şahin said Istanbul police exerted serious efforts and "a complex investigation" to find the perpetrator. He described Uzbek-born Masharipov, 33, as a well-trained terrorist who received training in Afghanistan and speaks four languages.
Şahin said Masharipov used the code name Abu Muhammad Khorasani as a member of Daesh and is believed to have entered Turkey in January 2016.
The governor said the operation was the culmination of a detailed investigation that included the scanning of some 7,200 hours of security camera footage and some 2,000 police officers were involved in the investigation. He noted police in other cities in cooperation with intelligence service of Turkish National Police conducted operations previously to find out Masharipov's connections and their findings led them to what the suspect did in Istanbul before the attack. "When he arrived in Istanbul, he first rented a house in Başakşehir [a district near Esenyurt] and then, two days before the attack, he moved to two different houses, apparently to hide out. He was in Zeytinburnu [district] and arrived at Reina from there," he said.
Şahin said the suspect confessed to his crime in his first interrogation and fingerprints found at the scene matched his.
In an unusual departure from the traditional methods of Daesh, Masharipov has chosen an armed attack rather than a suicide bombing as he targeted the crowded Reina nightclub in the district of Ortaköy. Armed with an AK-47 automatic rifle, he entered the venue bustling with mostly foreigners about one hour after they welcomed 2017 in the posh club, after killing a policeman and private guards outside. After a rampage that took several minutes killing Arab tourists and Turkish revelers, Masharipov left the place after changing his clothes to blend in with the panicked crowd rushing to the exit. From that moment, he disappeared into the night, leading to a nationwide manhunt. Several suspects including his wife were detained in the central city of Konya and the western city of İzmir following the attack while the police long withheld his identity, simply defining him as a Daesh suspect from an Asian country, while some officials alternately called him a Kyrgyz, an Uighur and an Uzbek - his true nationality. His only photo or rather video, as he took selfies in the popular Taksim Square in Istanbul, made rounds in the media and social media and tip-offs on his possible whereabouts flooded police hotlines though most turned out to be false.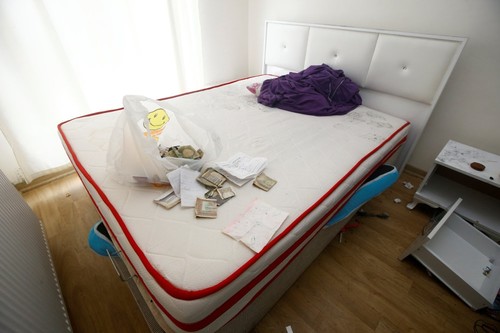 Police found foreign currency and several documents in sparsely furnished residence.
The attack, that shocked the public due to the apparently calm behavior of the gunman, was executed professionally according to security experts. This triggered questions that Masharipov might have not been alone in his brutal deed and some conspiracy theories even pointed out that he was only one of several gunmen at Reina. Although it is now known that Masharipov was the lone gunman, experts say the attack and its aftermath is not something that Daesh, which employed suicide bombers, car bombs et cetera in its attacks, is capable of, at least in Turkey where the security was higher than ever during New Year's Eve celebrations. Deputy Prime Minister Numan Kurtulmuş said last week that it was "a well-planned attack" and "not only a terrorist organization but also a very professional intelligence service might have been involved." "Many suspects were detained and new facts surfaced. It is a slow process but it will be fully revealed in the end," he said.
Answering reporters' questions yesterday, the Istanbul governor said it was too early to say something about the possible link of a foreign intelligence service, adding that the investigation was still ongoing.
Speaking further on operations to capture Masharipov, the governor said some 152 locations were raided and 50 suspects were detained prior to the Esenyurt operation and 168 foreigners were detained for possible links to Daesh.
Police narrowed down the possible whereabouts of the gunman to five locations and the residence in Esenyurt where he was captured was among them. The governor said other suspects found in the residence are most probably linked to Daesh, while media outlets published the photo of an Egyptian woman and another woman hailing from an unspecified African country. "We believe he moved to this apartment in the last three days," Şahin said. Neighbors were surprised that Istanbul's most wanted man was quietly living among them though they believed the lack of security cameras in the otherwise well-protected housing complex proved an advantage to hide in plain sight for terrorists. Some neighbors said the apartment had frequent visitors and most were African migrants. Masharipov had chosen areas he could blend in while in Istanbul as previous residences he hid out show, from Zeytinburnu which hosts a large number of migrants from Asian countries to Başakşehir and Esenyurt, two suburbs with a large mix of migrant population both from other Turkish cities and Middle Eastern and Asian countries. Esenyurt, with its vast number of "daily rental" apartments, also provides opportunities to fugitives seeking a hideout. The government has recently launched a crackdown on apartments up for daily rentals that are usually used for purposes of prostitution and hideouts for fugitives though an illegal sector apparently prevails.
The governor said it was clear that Masharipov was not alone on the day he carried out the attack and someone definitely helped him, at least prior to the attack.
He said Masharipov entered Turkey via the country's "eastern border" in January 2016. Though he did not specify the country, Turkish media outlets noted that it was through Iran that Masharipov sneaked into the country. Doğan News Agency reported that the suspect also received training in Pakistan and was wanted by Uzbek authorities though it did not specify charges against him. Doğan also said Masharipov was an ethnic Tajik living in Uzbekistan.
Police success praised
Governor Şahin praised police for the successful operation while anti-terror police also drew praise from ministers and social media. Şahin said, "efforts of police will not go unrewarded." The governor also thanked citizens for some 2,200 tip-offs that helped reveal important information regarding the suspect.
Justice Minister Bekir Bozdağ, Deputy Prime Minister Numan Kurtulmuş and Foreign Minister Mevlüt Çavuşoğlu congratulated police and Interior Minister Süleyman Soylu for the operation via Twitter. Social media users joined the chorus of praise while media outlets noted that the operation was distinct as the police did not fire any shots nor did the suspect have time to reach for his gun.
Turkey has stepped up its counterterrorism operations in the past two years as both Daesh and the PKK have increased attacks targeting security forces and civilians in the country. Authorities say hundreds of terror attacks ranging from suicide bombings and armed attacks have been thwarted since last year, though the country lost a large number of its citizens in a string of attacks in Istanbul and other cities, from Kayseri in central Turkey to Diyarbakır in the southeast.
Governor Şahin said the police "was looking for a needle in a haystack in a way since the attack to find the suspect" and elaborate efforts, tight security measures restrained Masharipov's movement. He said the suspect could have fled abroad if he had the opportunity but strict security prevented it.
Commenting on the capture, President Recep Tayyip Erdoğan said yesterday nobody would get away "with what they have done in this country." "As a state ruled by law, we will hold accountable everyone for [their wrongdoing]. The capture of this terrorist is the sign of this security concept," he said, adding that he congratulated everyone who helped the capture of the terrorist.
Blinders, drones in hideout
Police found $197,000 in Masharipov's possession, along with a pistol and an airgun, two small drones and an unspecified number of SIM cards.
The apartment, opened to media crews after a meticulous search by police, shed light on how Masharipov and others spent time or at least planned to spend time. A huge stash of foreign currencies from African and Arab countries and a large number of cartons of eggs and cooking oil were found in the apartment. The large stash of food was believed to be in preparation for Masharipov as some food found inside the apartment started decaying and a grocery store receipt showed a large shopping list dating back at least one month. Apart from two sofas, two beds and household appliances, the place was barely furnished and had no TV.
Curtains were replaced with blinders, apparently to avoid surveillance.
Police now investigate why the suspect had two drones while authorities said they believed the drones might have been acquired for surveillance or carrying out the attacks.
Daesh threat prevails
When Daesh emerged a few years ago in the midst of the instability in Iraq and the conflict in Syria, Turkey was at the forefront of efforts to stop it by cutting off the flow of foreign recruits through its borders. Thus, it made it into the terrorist group's lengthy list of adversaries. The group made its first indirect attack against Turkey in 2014 when its members took hostage the country's consul-general and embassy staff in Iraq's Mosul. Its first attack on Turkish soil was in 2015 when a militant blew herself up at a police station in Istanbul's Sultanahmet. Since then, the terrorist group has killed hundreds in a spate of attacks elevated especially after Turkey stepped up its support to Syrian rebels fighting Daesh in Syria.
More recently, the terrorist group released a chilling video showing a hooded man with a backpack walking by Istanbul's landmarks, a police patrol car, a tram and busy venues, accompanied by a message calling Daesh followers to attack Turkey "to turn sense of safety into fear."