As hearings continue in the trial of 62 former military personnel accused of seizing control of Istanbul's Sabiha Gökçen Airport on the Asian side of the city during the failed July 15 coup attempt orchestrated by the Gülenist Terror Group (FETÖ), five suspects entered a plea before a judge on Monday in Istanbul's Silivri district courthouse along with 28 defendants and 15 of the 34 military private officers facing charges in the case.
The courthouse was under tight security and gendarmerie forces surrounded the premises at 7:00 a.m. ahead of Monday's hearing, establishing designated checkpoints for vehicles entering the complex as well as individuals. Attorneys and family members of the accused were allowed to enter the courthouse at 9:00 a.m. After the lengthy indictment was read in court for the first hour, the court took a brief recess before the defendants' testimonies were heard at 2:00 p.m.
Among the defendants, Private Serkan Bozkurt testified that superior officers had instructed them to conduct an inspection and report for duty. Bozkurt, who drove a tank during the July 15 coup attempt, claimed that four other military personnel were called to duty alongside him, saying:
"We were informed that there will be a terrorist attack at Sabiha Gökçen Airport. Since I am not married, I told my battalion commander that I wanted to take part in the mission. I am not typically assigned to duty for inspections or military exercises."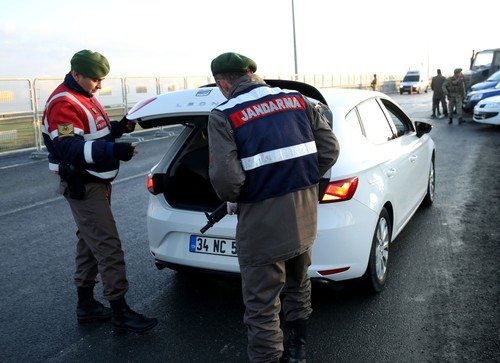 The gendarmerie established designated checkpoints for vehicles entering the complex.
Saying he and the four military personnel were approached by resistant civilians on their way to the airport, Bozkurt claimed that when clashes with civilians became heated they stopped driving the tanks and were unable to communicate with other military personnel, claiming the vehicles did not have radios: "When we understood that the unfolding situation was not a terrorist attack, we stopped heading towards the airport. Seeing that civilians were heavily protesting our movements, we talked with our commander. He said that we must secure ourselves at first and then head back to our barracks. I have nothing to do with FETÖ," added Bozkurt.
On the other hand, Selami Göktürk, the gunner of one of the tanks, said his company commander called him to duty on the day of the coup attempt despite having placed him on annual leave effective on July 15, claiming: "The information I received regarding a possible terrorist attack at Sabiha Gökçen seemed credible because Istanbul had been exposed to numerous terrorist attacks leading up to the coup attempt, making the scenario seem likely. However, when we arrived at the airport, we observed that civilians had blocked its entrance. We wanted to return to our barracks with the tanks but were unable to as we were surrounded by people. Later on, the police came and we surrendered. We did not use our guns at any time during these altercations. If the civilians had not blocked the main roadway, we would have returned to the barracks under direct orders. Because there were nearly 80 tanks stationed at our barracks and only four of them were out and in use, we assumed this was actually a terrorist attack; not a military coup."
Special Sergeant Yüksel Özdemir, on the other hand, said: "At 4:00 p.m., our battalion commander told us that a terrorist attack would occur at the battalion and that we should all leave. However, Sgt. Sinan told us that there would be a terrorist attack at Sabiha Gökçen Airport. The police arrived around 3:00 a.m. on the morning of July 16. We did not resist; we surrendered to the police." Özdemir also said one of his friends texted him saying the members of FETÖ were orchestrating a military coup.
On the other hand, Special Sgt. Yavuz Türk blamed Lieutenant Colonel Şakir Çınar for giving the order to leave the barracks and denying their requests to return to their barracks.
Sgt. Yusuf Yaylaz said Lt. Col. Fatih Karatay was given very odd orders. "Sgt. Sinan told us to head to Sabiha Gökçen Airport because of a possible terror attack there. We left the barracks around 10:00 p.m. after getting ammo from the armory. I was in the armored combat vehicle. The commander responsible for the vehicles assigned who would be in which vehicle in the morning. We did not open fire on the civilians. The commanders told us to wait for the police who arrived around 3:00 a.m. the next morning. We did not pull our guns or point them at anyone," he asserted, adding that he had no intention to participate in the failed coup attempt and denies all accusations.
On the second day of the hearing yesterday, Special Sergeant Ozan Gökbulak testified first, saying Lieutenant Colonel Şakir Çınar had come to their battalion and ordered them to go to the vehicle garage on July 15. A member of the Turkish Armed Forces (TSK) personnel for two years, Gökbulak said, "The battalion commander told us that the Third Army Corps had delivered a message asking us to bring the tanks assigned to our battalion. He said something about a military exercise. ...They told us to hurry and said that martial law had been declared and there was no terrorist attack at Sabiha Gökçen Airport," Gökbulak said during his testimony. He went on to say Lieutenant Colonel Çınar ordered them to reload their guns while the commander of the tanks gave opposite orders: "When we got to the airport, people were waving at us and asked us what we are doing. I heard something about a 'coup.' We stopped the tanks to avoid harming anyone. ...We could not leave the tanks and go. We waited for the police, headed to the police department and I handed over my gun."
Specialized Private Mümtaz Akyıldız, the driver of the armored vehicle, also provided his testimony yesterday saying Sergeant Sinan told the soldiers to head to the armory and collect ammo: "We were first told not to leave our position but Sergeant Sinan told us to get the ammo and get into the vehicles. We were told that there would be a terrorist attack. ...I looked at my phone and saw the news about the Bosporus bridges being closed. Then, I came across Prime Minister Binali Yıldırım's statement about a coup attempt," Akyıldız said. He continued to testify that the road to the airport was blocked by civilians, claiming: "We tried to head back but we could not. We waited for the police for nearly two hours. Once they arrived, we surrendered. We did nothing violent. In fact, we understood that we had been tricked as soon as we arrived at the airport. We are privates; we do not have power to give orders. What can we do if our commanders are traitors?" he asked.
The hearing will continue today with more testimonies from the defendants.
The defendants from different ranks of the armed forces, include 28 arrested for the putsch attempt. They are charged with "attempt to overthrow constitutional order and replace it with another order by force," "attempt to remove the parliament or to disrupt its conduct by force," and "attempt to overthrow the government or to disrupt it by force." The charges, usually brought against terror suspects and those involved in coups, can carry lifetime imprisonment in solitary confinement. The prosecutors also ask for lesser sentences of up to 15 years for some suspects for "membership of a terrorist group" and "aiding and abetting a terrorist group.