A man wanted for terror charges for his links to the Gülenist Terror Group (FETÖ) is scheduled to moderate a panel in Brussels on June 20 while Turkey asks European countries to extradite terror suspects.
​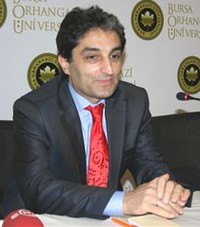 Selçuk Gültaşlı was at large after Turkish authorities issued an arrest warrant for him and others last year as part of an investigation into the media arm of FETÖ, which is blamed for the 2016 coup bid. Gültaşlı was the former Brussels representative of Zaman, a mouthpiece for the terrorist group shut down before the coup attempt. Tahir Abbas, a professor who once worked at Fatih University, another FETÖ-linked institution, will speak at the panel that will discuss "Contemporary Turkey in Conflict," a book penned by Abbas. The event is organized by Dialogue Platform, a non-profit organization associated with FETÖ.
Belgium, like many other European countries, is known for its tolerant approach toward FETÖ and the PKK terrorist group, which freely hosts events in the country.
Gülenists in Belgium are threatening and intimidating Turkish people who are against the terrorist group. Many of them are filing baseless allegations against individuals who opposed the deadly coup attempt last year and threatening to massacre the ones protesting, with no action from the Belgian police. According to a report by Anadolu Agency, around 60 Turkish people in Beringen city, who protested the coup attempt on July 15 last August, were called by the police to testify over provocation claims by Gülenists, even though the individuals made no personal or direct reference to the terrorist group. Previously, two Turkish citizens were called by police in Brussels to testify, upon complaints by FETÖ members, while Turkish news portals publishing information about the group's structure in Belgium were reportedly threatened with jail terms.
FETÖ, headed by Fetullah Gülen, a former preacher based in the U.S., is accused of masterminding and executing the coup to seize power. Through its infiltrators in the army, who were aided by civilian FETÖ members, the group schemed to topple the government and kill President Recep Tayyip Erdoğan, prosecutors say. The group runs an international network of schools and companies and maintains close ties with politicians at odds with the Turkish government in the countries they have clout.
Following the deadly coup bid, authorities have launched investigations to broaden the crackdown on the terrorist group and the group's "media leg" was investigated. Dozens of journalists and other figures working in FETÖ-linked media outlets were detained and arrested on terror charges. They are accused of spreading terror propaganda and membership of a terrorist group.
A report by Anadolu Agency shows FETÖ is active in Belgium through FEDACTIO, an umbrella network of some 60 nongovernmental organizations loyal to the group. The agency's report says Belgian Turkish Businessman Association (BETİAD) is the main financier of the group's activities in the country while a branch of TUSKON, a now-defunct, Turkey-based business assocation lobby on behalf of the terrorist group in the European Union institutions based in Brussels. Fetullah Gülen has even a chair for intercultural studies named after him at Leuven University, where Selçuk Gültaşlı also had a master's degree.
Belgium also hosts Zaman Benelux, an arm of Zaman that is published in Flemish and French and is known for its staunch anti-Turkish coverage and targeting of Belgian politicians of Turkish origin opposing FETÖ.
The country became a favorite destination for asylum seekers from Turkey according to Turkish media outlets which reported a 123 percent rise in the number of asylum applications from Turkey to Belgium after the July 15 coup bid. Most asylum seekers are FETÖ members including lawyers, journalists, soldiers, businesspeople, prosecutors and teachers.