A court in Ankara wrapped up the first week of what is the biggest trial related to last year's July 15 coup attempt, which killed 249 people. Civilian members of the Gülenist Terror Group (FETÖ), whose members in the military are blamed for the attempt, were the first to present their defenses, which had a tone varying between denial and mockery of the court.
Nurettin Oruç, a documentary filmmaker accused of being an imam, or point man, for the terrorist group coordinating its members in the military was the last civilian defendant to testify in a week of hearings.
Like others captured at Akıncı Air Base in Ankara - the command center for the coup attempt - Oruç seemed to have selective amnesia and more often than not, denied his role in the attempt.
Oruç, who is among 486 defendants suspected of having links to the coup-related activities at Akıncı, claimed in his initial defense after his capture on July 16, 2016, that he was near the base to film a documentary about livestock breeding. He repeated it before the court inside a tightly guarded prison complex and said he was not the man seen in security camera footage from the military base, despite it seeming to show otherwise.
"My image might have been superimposed in the footage," Oruç claimed.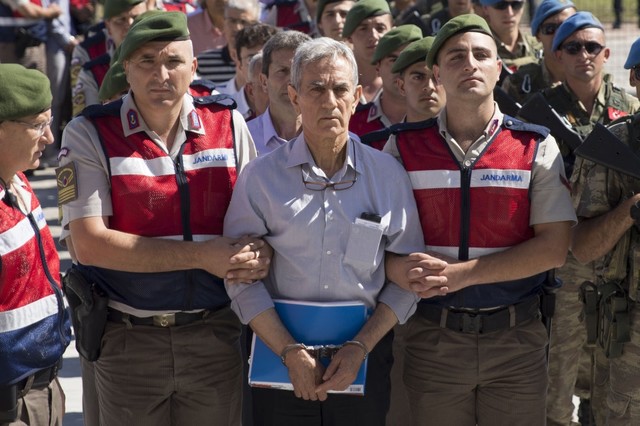 He said he did not have any connections to any other FETÖ members caught at the base and claimed he did not know that the owner of film company he worked at was a fugitive member of the terrorist group run by U.S.-based Fetullah Gülen.
An indictment on what happened at Akıncı, where fighter jets took off to strike several locations in the capital, claims Fetullah Gülen, who currently lives in Pennsylvania, was the mastermind of the coup attempt. Through his men, including Oruç, Adil Öksüz, Kemal Batmaz, Hakan Çiçek and Harun Biniş, he executed his plans to seize power in Turkey, where he faces multiple life sentences for a string of trials.
The indictment names Adil Öksüz and Kemal Batmaz as two of Gülen's point men who executed the coup with the aid of Akın Öztürk, a former general accused of coordinating coup efforts.
Oruç said he never met Gülen and had no connection whatsoever to any members of the terrorist group.
On the other hand, he failed to explain why he did not take his cellphone with him when he traveled alone to an area at the heart of the coup attempt and when he went to a place near the base with no mass transit services and without any taxi ranks. Selfet Giray, chief judge of the trial, said his defense bore similarities to what other "civilian" defendants said throughout the trial about not carrying cellphones. "Batmaz had no cellphone and Hakan Çiçek had a somewhat faulty cellphone on him and you didn't have one either," Giray told Oruç. Giray also questioned how so many people with links to FETÖ came together in the same place during a coup attempt and for very different reasons. "Adil Öksüz, Kemal Batmaz and Harun Biniş said they were looking for a plot of land to purchase. Hakan Çiçek was there for a party and you were there to shoot a film. This is a really strange place to be," the judge said.
Oruç also puzzled the court and prosecution when he said he did not remember his own children's names when he was asked about names of FETÖ-linked people he shared a house with while attending university. Oruç did not answer the question of whether or not he viewed Gülen as a traitor. He also could not remember the names of people and places he visited when he went to Kahramankazan, the district where Akıncı Air Base is located, to shoot the documentary. Answering another question, Oruç said he did not know the address of the film company he worked for.
Akın Öztürk, who once served as commander of Air Force, was the second to testify at Friday's hearing. Öztürk had earlier testified in another coup-related trial in which he is accused of leading Peace At Home Council, a 38-member committee of putschists, and more or less repeated that testimony. Öztürk denied his role in the coup attempt and claimed he never attended four days of meetings with other putschist officers to plan the coup. He said he went to Akıncı when he learned that a coup was underway and came across Chief of General Staff Gen. Hulusi Akar there. Akar was abducted from his office and brought to the base with other loyal generals. He claimed Akar asked him to convince other putschists to end the coup attempt.
Since coup trials began in Turkey last year, hundreds of officers, from lieutenants to generals, have been put on trial for the putsch bid. So far, only a few defendants have acknowledged their links to FETÖ, despite abundant evidence of meetings with the group's members.
The majority of defendants have also avoided naming FETÖ as being behind the coup. The plaintiffs' lawyers say this is a defense strategy to vindicate the terrorist group, hoping that FETÖ will eventually "liberate" them from prison.
Kemal Batmaz, who was the first defendant to testify in the trial on Tuesday, claimed he was not the person seen in security camera footage inside the military base, although the high-definition footage and forensic evidence clearly shows Batmaz casually walking inside the military base. Batmaz, who was captured near the base in the early hours of July 16, even claimed he did not "go to the base" on the night of the coup.
Gülen is the prime suspect in the Akıncı indictment in which 481 defendants are included as suspects, but it is Öksüz, a theology lecturer who turned out to be Gülen's lieutenant for the execution of the foiled coup bid, who draws the attention of prosecutors.
Öksüz is among few suspects who disappeared after the coup attempt after he was controversially released hours after his detention at Akıncı.