Approximately 250,000 narcotic drugs that were reportedly planned to be delivered to PYD/PKK terrorists in Syria were seized by police in Turkey's southern Adana province.
According to the report, the Provincial Security Directorate's Narcotics Crime Branch launched an operation after receiving intelligence on a truck carrying narcotic drugs for terrorists.
During the check-up, police dogs found three bags containing 250,000 narcotic drugs.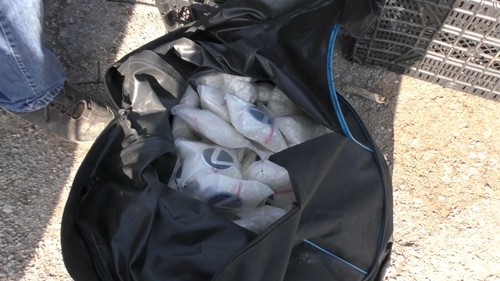 Two Syrian nationals M.A. (29) and V.Ş.Z. (37), who were driving the pick-up truck, were reportedly detained by the police.
Last month, the Turkish Armed Forces and Free Syrian Army found same narcotic drugs in Syria's strategic Mt. Barsaya, which was captured from YPG/PKK terrorists during Operation Olive Branch in Syria's Afrin.
On Jan. 20, the Turkish military launched an operation on Afrin to clear its border of the PKK's Syrian affiliate, the Democratic Union Party (PYD) and its People's Protection Units (YPG) militia, to prevent them from establishing an autonomous region, which Turkish officials call a "terror corridor," by connecting the northwestern Afrin canton to the Kobani and Jazeera cantons to the east.
According to the military, the operation aims to establish security and stability along Turkish borders and in the region as well as protect Syrians from terrorist oppression and cruelty.
The operation is being carried out under the framework of Turkey's rights based on international law, U.N. Security Council resolutions, its self-defense rights under the U.N. charter, and respect for Syria's territorial integrity, the military said.