A Roman-era child sarcophagus was seized Monday in an anti-smuggling operation conducted in western Turkey's Aydın province.
Gendarmerie units launched the operation after a detailed investigation carried out in Aydın's Söke district.
The units found the historical artifact which is technically called an "ossuary" in a car trunk. Two suspects were also detained in the operation.
Ossuaries are stone or wooden boxes or chests containing the bones of the deceased. Unlike sarcophagi, ossuaries were reserved for common people. These people's bodies were first buried in a burial cave and after a while their bones were collected to be put into these boxes.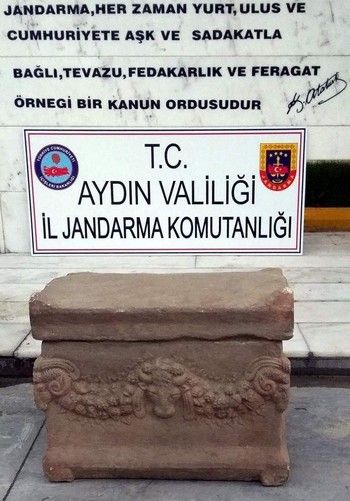 Suspects Ç.T. and M.Ş., who were caught before they got the chance to sell the Roman-era coffin, were later released on condition of trial without arrest.
The ossuary was identified by experts as a priceless and immovable artifact, which needed to be preserved in a museum.
Thousands of anti-smuggling operations are carried out across Turkey every year to hinder the illegal sale of historical objects and protect the country's rich cultural heritage.