Andrew Craig Brunson, an American pastor running a church in western Turkey, made his first appearance before a court Monday in a trial closely watched by the media and Washington. The pastor, held on terror charges for his links to the PKK and the Gülenist Terror Group (FETÖ) blamed for the 2016 coup attempt, clung to denial in his defense, while a U.S. official watching the trial, brazenly threatened Turkey. Sam Brownback, the ambassador-at-large for International Religious Freedom, told reporters outside the courthouse that although the United States cares "deeply" about its ties with Turkey, relations between both countries will have difficulty moving forward as long as Brunson is in jail.
As Brunson's lawyer told Agence France-Presse (AFP) that there was no use in pushing this case on political grounds, Brownback said the U.S. administration, from President Donald Trump down, wanted to see the case resolved and see Brunson "released."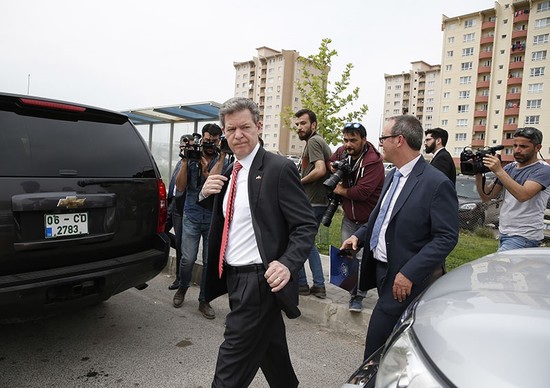 Samuel Brownback leaves the prison complex in Aliağa. (AP Photo)

The case of Brunson, who was a pastor at the Diriliş (Resurrection) Protestant church in Izmir, is a thorny issue between Ankara and Washington. Washington has repeatedly called for the release of Brunson, claiming he was "unjustly detained." Former U.S. Secretary of State Rex Tillerson was the last high-ranking U.S. official to demand his release during a visit to Turkey in February, a demand seen by local officials as disrespectful towards the independence of the Turkish judiciary. The Turkish government has repeatedly told Washington that Brunson's case is being handled by the courts and the government cannot intervene.
The pastor, imprisoned in the city of Izmir, is accused of espionage and aiding two terror groups, charges carrying up to 35 years in prison.
In his first appearance before court in Izmir's Aliağa district, the pastor, in fluent Turkish, denied all charges against him, including his alleged contact with Bekir Baz, a senior member of FETÖ. Only a few days ago, reports said that local law enforcement officers following up on the case uncovered new evidence of contact between Brunson and Baz, the top FETÖ official in the Aegean region. While Brunson rejects claims that he ever met Baz, investigations into both individuals' GSM signals showed that they were at the same place or at least very close to each other on 293 occasions. Baz currently remains a fugitive from the law.
Brunson was arrested in 2016 after a secret witness in a criminal probe into FETÖ testified against him, while authorities were preparing to deport Brunson and his wife Norine Lyn for "involvement in actions threatening national security." The indictment underlined the pastor's links to the terrorist group and his frequent contacts with Baz, his aide Murat Safa and Amnesty Turkey Branch Executive Taner Kılıç, who is also being accused of aiding FETÖ. Baz, one of the group's fugitive point men who had ties to Brunson, is believed to be in the U.S. after he fled Turkey in 2015 one year before the coup attempt. He managed to run away at a time of heightened crackdowns against the terrorist group. Baz was allegedly a coordinator of the group's activities in Izmir where Gülen made himself a name as a charismatic preacher in the 1970s. He reportedly blackmailed and threatened local officials to work for the group's interests, according to criminal investigations.
At one point, Brunson said it was against his faith to be a member of "an Islamic group" in reference to FETÖ, which is known for disguising itself as a religious charity movement. He claimed he did not do anything against Turkey.
Asked about his message to an American soldier six days after the 2016 coup attempt blamed on military infiltrators by FETÖ, Brunson said the message was meant to be religious. The message, as translated into Turkish by the court, quotes Brunson saying, "Things will get worse, we will win in the end." The defendant said he was simply assessing the situation. "It is something spiritual. I was referring to the fact that God can create miracles when people are shaken and challenged. 'Us' here is mankind in general," he said.
The indictment also charged Brunson with conducting systematic efforts that targeted Kurdish citizens and with founding the "Kurdish Church of the Messiah," where only Kurds are admitted. There is also evidence showing Brunson with PKK flags and symbols, it said, adding that Brunson frequently visited Ayn al-Arab, also known as Kobani, in northern Syria, which is controlled by the PKK's Syrian offshoot the Democratic Union Party (PYD) and its armed wing the People's Protection Units (YPG), and Turkey's Suruç district in southeastern Şanlıurfa province across the border.
Brunson also took part in organizing the 2013 Gezi Park riots, the indictment accused, claiming that he was in possession of lists containing the names of "gas station workers in Turkey's southeast," "railway employees," or "soldiers to get in contact with," with whom he exchanged information through close contacts. In Monday's hearing, the pastor dismissed allegations as "lies."
The indictment also noted that the suspect was charged with being in contact with retired soldiers, special warfare officers and high-ranking leaders of the PKK and FETÖ, which is understood through two secret and five open witness statements, along with evidence such as digital data, documents, phone conversation and wireless tower records provided by Brunson himself, witnesses and authorities.