The family of a senior member of the Gülenist Terror Group (FETÖ) and the top plotter in the 2016 coup attempt is living in luxury in New Jersey, U.S., according to a report by the Anadolu Agency (AA).
Adil Öksüz, a FETÖ member, was detained the day after the July 15, 2016 coup attempt near the Akıncı Air Base near Ankara, from where the plot was being directed, before being released by FETÖ-linked judges. He has been missing ever since. There have recently been reports that he is currently hiding in Berlin, Germany.
After the July 15, 2016 coup attempt, which killed 250 people and injured 2,200 others, members of the FETÖ have hidden out abroad, with the U.S., where the terrorist group runs a vast charter school empire, being and important destination.
Öksüz, in the year before the coup attempt, traveled to the U.S. several times, where he, according to indictments, conferred with FETÖ leader Fetullah Gülen, who lives in an expansive compound in Saylorsburg, Pennsylvania.
The AA report said that Öksüz took his three children and his wife, Aynur, to the U.S., a month before the coup attempt to live with her brother, Abdulhadi Yıldırım, who is also believed to be a senior FETÖ member.
FETÖ is known to arrange marriages among members, with Gülen himself involved in the process, picking who should marry who. That is why many married couples are usually implicated in most criminal activities of FETÖ, with criminal investigations leading to indictments against several people from the same family.
AA photographs show Aynur Öksüz living in a three-story house in the luxury neighborhood of Ridgefield. Aynur Öksüz is also known to have belonged to a family with deep links to FETÖ. Most of her family used the Bylock encrypted communication application, created and almost exclusively used by FETÖ members. Aynur Öksüz and her family members deposited significant amounts of money in Bank Asya, the now–defunct financial arm of FETÖ. She was also registered as an employee of Kaynak Holding, one of the many FETÖ-linked businesses seized by the state after the 2016 coup attempt.
Her father and sister, Cevat Yıldırım and Emine Şennur Şen, were sentenced to six years and three months in jail for being FETÖ members and for aiding and abetting Adil Öksüz when he was on the run after the coup attempt.
The shadowy brother-in-law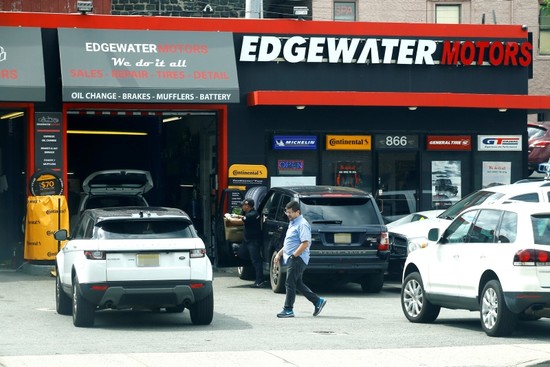 Adil Öksüz's brother-in-law Abdulhadi Yıldırım appears to be deeply implicated in FETÖ's criminal activities. Yıldırım manages a high-tier mechanics shop in New Jersey's Edgewater neighborhood on the Hudson River shore. Anadolu Agency filmed Yıldırım in front of his dealership talking to his employees and kissing an American flag, then handing the flag to an employee to kiss.
Yıldırım is known to have very close ties to Öksüz and Kemal Batmaz, the two most senior civilian FETÖ members who ran the 2016 coup attempt. Batmaz, who was arrested with Öksüz near the Akıncı Air Base the day after the coup attempt, is currently being tried. Yıldırım is believed to have provided logistical support to Öksüz and Batmaz during their travels to and from the U.S.
Yıldırım also had close ties with Kaynak Holding, where Batmaz was a senior executive. Yıldırım also at one point owned shares in several Kaynak Holding companies. Investigations showed that Batmaz and Yıldırım talked on the phone 1,100 times after 2010.
Batmaz, in his testimony to prosecutors, said he knew Yıldırım for almost a decade, before rescinding his statements. He also dismissed claims that he knew Öksüz, and described the flight from New York they took three days before the coup attempt as a coincidence. It also later became known that Batmaz declared Yıldırım's home address as his residence on his visa application to the U.S. During his visit to the U.S. in Jan. 1, 2016, he told U.S. customs officials that he intended to visit Gülen's compound in Pennsylvania.
Criminal indictments showed that Yıldırım gave FETÖ's U.S.-based organizations, the Hudson Turkish-American Culture Association and the Peace Islands Institute, a total of $36,379 in donations.
Adil Öksüz is being sought in Germany
Adil Öksüz, 51-year-old former theology lecturer nicknamed "air forces imam," has been on the run for almost two years. Turkish officials have repeatedly appealed to the German government to arrest and extradite Öksüz, after receiving dozens of tips, indicating that he was hiding in Germany.
Since last November, German police have been actively looking for the chief coup suspect, but have so far failed to find him, according to diplomatic sources.
Several witnesses recently told Anadolu Agency that Turkey's most wanted man stayed at a small apartment in Berlin early this year under the protection of FETÖ members. Ali A., a Berlin-based Turkish businessman with suspected ties to FETÖ, provided financial support for the group to rent a flat in Berlin's Neukoelln district, witnesses said.
In Germany, home to more than 3 million Turkish immigrants, FETÖ has a large network with dozens of private schools, businesses, and media organizations. Since the 2016 defeated coup attempt, nearly 4,000 FETÖ suspects have come to Germany from Turkey and other countries, according to local media reports. Several FETÖ suspects, including former soldiers and diplomats, have applied for asylum in various German federal states.