Adnan Oktar, the larger-than-life leader of a bizarre cult and 165 other suspects, mostly his followers, were detained Wednesday in morning raids by Turkish police.
The Chief Prosecutor's Office issued detention warrants for Oktar and 234 others in a criminal inquiry into the cult. The charge sheet against Oktar and other suspects is a long list of crimes, from running a criminal organization to political and military espionage, from sexual abuse of minors to blackmail. The Adnan Oktar Criminal Organization as it is cumbersomely titled by authorities is also accused of money laundering, fraud, exploiting religious values for fraud, bribery, blackmail, violation of privacy, insult and violation of counter-terrorism laws and laws against violence towards women. Oktar and his cult have faced similar allegations in the past.
The 62-year-old Oktar, flanked by his bodyguards, tried to run when police stormed his villa in Istanbul's Çengelköy district. Searching the premises and other locations in Istanbul owned by the cult, police found a large cache of weapons and bulletproof vests. In his first remarks while being brought to a hospital for a health check, Oktar claimed that the detentions are a "plot of the British deep state," a conspiracy theory often used by the cult leader to explain events around the world. Onlookers in the hospital were heard jeering at Oktar as he was being transferred to Istanbul Police Department headquarters.
Police units raided 115 addresses in Istanbul's 22 districts including Oktar's secretive compound in Çengelköy neighborhood, three addresses in Ankara's two districts and one address each in Muğla and Antalya provinces. A female suspect was captured in Bodrum, a popular resort town in southwestern Turkey.
Authorities also announced that the assets of all suspects, their properties, companies and foundations run by the cult were seized and trustees were appointed.
Tarkan Yavaş -- dubbed the No. 2 of the criminal organization who is being sought on 20 charges including sexual exploitation of a minor, fraud and international espionage -- managed to escape. Yavaş is reportedly armed.
Oktar Babuna, who is among the close circle of Oktar, was among the detained. Babuna, the son of a renowned gynecology professor who made creationist television programs that praised Oktar, is best known for a mass marrow donation campaign in 1999 in which tens of thousands of people donated marrow and blood samples to help Babuna to overcome leukemia, which was also backed by conservative media outlets. However, it was alleged at the time that some 120,000 samples out of 160,000 donations were lost and sent to the U.S. The health ministry launched an investigation at the time due to suspicions over the campaign, but blood and marrow samples could not be retrieved.
Oktar surrounds himself with young women and good-looking men during his programs where he delves into everything from evolution theory to the "British deep state" on his A9 TV. He affectionately calls the young women on his show "kittens." His critics claim that he brainwashes young women and men from wealthy families into joining his cult, a claim he had repeatedly denied.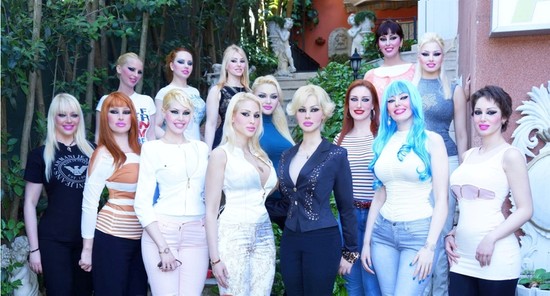 This file photo shows the so-called "kittens" of Adnan Oktar.

The objectification of women in his shows often comes under heavy criticism from women's rights groups and both conservative and secular segments of Turkish society. His show was previously fined by the country's broadcasting watchdog Radio and Television Supreme Council (RTÜK). In Wednesday's operation, 106 arrest warrants were issued for women.
The cult leader is primarily known for a series of books challenging the theory of evolution he wrote under the pseudonym "Harun Yahya." He first made headlines in the 1980s when he was arrested for promoting theocracy.
Oktar was charged with blackmailing and was arrested in September 1999, but the charges were dismissed after a two-year-long trial. After a court found him mentally ill, he spent 10 months in a psychiatric hospital and, after his release, he kept a relatively low profile. He established a foundation in 1995 and started publishing books on creationism.
He became a household name after he launched a TV station in 2011 where his bizarre TV shows stirred up controversy and made him a favorite topic of internet memes. His lifestyle drew comparisons to the late Hugh Hefner, founder of the U.S. magazine Playboy. Like Hefner, Oktar's lavish mansion was home to surgically enhanced women who were seen in suggestive poses around Oktar during his TV shows in which he spoke incessantly about a variety of topics from current events to evolution theory, only to interrupt speeches for outlandish dance sequences in which scantily clad dancers perform as he himself performs a strange dance routine.
Bordering on obscenity, RTÜK received a barrage of complaints about his shows.
Most recently, a Turkish man living in Austria accused Oktar of brainwashing his daughters into submission. Elvan Koçak, who divorced his wife years ago for her devotion to Oktar, claimed that his two teenage daughters were brainwashed by Oktar and filed a criminal complaint against him. A court issued a restraining order against the cult with regard to Koçak's daughters who were seen in the audience in Oktar's shows.
Speaking to Anadolu Agency in the aftermath of the operations, Koçak said he was confident that Turkish authorities would do something about the cult. He said his daughters left Turkey "aboard a plane owned by Oktar" when a family court in Turkey granted him custody of his daughters. "I was patient in my fight against [the cult], and it paid off today. These people drew my children into a quagmire; they brainwashed them. When I took the matter to court, they launched a defamation campaign against me," he said.