A private school owner, a theology lecturer, an electronics engineer, a documentary filmmaker and an executive of a paper sales company were an odd mix to be found at a military base while a coup was unfolding. Moreover, it was not an ordinary base where these five men were captured, but a place where warplanes and gunships commanded by putschists took off and bombed the country's Parliament. Two years after the July 15, 2016 coup attempt, more evidence has emerged on the "notorious five" captured by anti-coup forces in Akıncı air base, and the new evidence links them once more to the Gülenist Terror Group (FETÖ). FETÖ leader Fetullah Gülen, who has denied his links to the coup attempt that killed 250 people, was actually at the heart of it, as his phone call with Hakan Çiçek shows. Çiçek is the abovementioned private school owner, who was in Akıncı "for a social event" according to his testimony. Other evidence acquired through the examination of phone records of Kemal Batmaz, the paper sales company executive apprehended in Akıncı, shows he was in touch with senior FETÖ figures.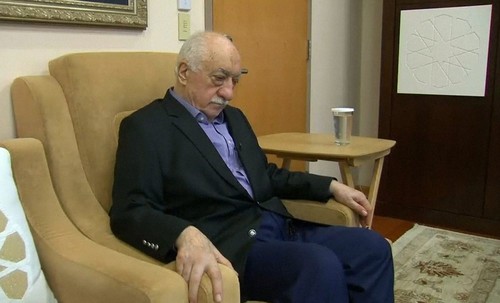 Pennsylvania, where Gülen lives in a posh compound run by FETÖ's Golden Generation Foundation, often came up in the investigation into Çiçek and others' links to terrorist group's members. The five men captured in Akıncı all visited the United States around same dates, and their destination was invariably Gülen's compound, though they apparently took careful measures not to leave traces of their visits. Such measures included taking different flights and using indirect routes to reach Pennsylvania. However, after deciphering the phone records of Hakan Çiçek, Turkish investigators found that the cellphone found in his possession during his capture was activated first in the Pennsylvania compound of Gülen on March 7, 2016. Çiçek and Batmaz's cellphones were found discarded at the Akıncı air base.
According to the investigators' report presented to prosecutors for the trial of Çiçek, Batmaz and other suspects, Çiçek's cellphone had images and a video of Gülen's Pennsylvania compound that was taken during his visit to Gülen. Investigators believe the cellphone was handed to Çiçek exclusively for use during the coup attempt. GPS examination of Çiçek's cellphone also revealed another possible link to FETÖ. Çiçek connected to the wireless network of Masal Cafe Lounge on June 25, 2016, records show. The venue in New York is run by a FETÖ-linked businessman and is known to be a popular meeting point for members of the terrorist group. The report also highlights that Çiçek visited the United States around same dates with Batmaz, Nurettin Oruç, Adil Öksüz and Harun Biniş. Oruç is the documentary filmmaker captured in Akıncı, while Biniş is the electronics engineer apprehended in the base. Öksüz, the theology lecturer who was among the five men captured there, is the only one among them who managed to flee after a court controversially ordered his release mere hours after his capture. Batmaz, Çiçek, Oruç and Biniş deny charges of involvement in the coup attempt and except Çiçek, all of them claim they were not near the putschists on July 15, 2016. Oruç claimed he was near the base for scouting locations for a documentary, while Batmaz and Biniş claimed they were near the base to "examine a plot of land they planned to purchase." Öksüz, who still remains at large and believed to be in Europe, claimed the same and told the court that first ordered his detention that he was near Akıncı to "look for land he planned to buy."
Çiçek's phone records also show his calls to Abdullah Bayram, a FETÖ member who stays in Gülen's compound. Investigators say in their report that, through frantic text messages Çiçek sent to Bayram, he sought to contact Gülen. "It is a matter of life and death" and "get him to the phone," two messages read. A report by Sabah newspaper claims Çiçek had a FaceTime call with Gülen after contacting Bayram on the night of the coup attempt. He also send messages through Viber to Hakan Serbest, a wanted FETÖ suspect.
Investigating Batmaz's phone records, Turkish authorities discovered that he was in contact with a man believed to be Muammer Çamurcu, a fugitive FETÖ suspect. Batmaz visited the United States five days before the coup attempt upon invitation from Abdülhadi Yıldırım, another FETÖ suspect, and returned to Turkey two days before the coup attempt. Sifting through Batmaz's contact list on the cellphone, investigators found cellphone numbers with country codes of the United States, Germany, South Africa and Hungary. Sabah newspaper has reported that these numbers belong to FETÖ's "executives" in those countries. The terrorist group runs an international network of schools and companies.
The new evidence will be presented to the United States as Ankara seeks extradition of Gülen and other key FETÖ members. A U.S. Department of Justice delegation recently paid a visit to Ankara to discuss the extradition and hear Turkish judiciary members' arguments on Gülenist involvement in the coup attempt.