Turkish security officials continue to enforce high-level safety measures near the home of terror-linked U.S. pastor Andrew Craig Brunson, who was previously released on house arrest.
Nearby streets and Brunson's apartment are being closely watched 24/7 by special operation units of Izmir Police Department, while motorized police officers stand guard at each end of Işılay Saygın Street in Izmir's Konak district.
Armored vehicles called "Ejder" (Dragon) can also be spotted from time to time during patrols, while police officers check suspicious people and cars in the area.
Residents of the neighborhood are quite pleased with the security measures, saying that formerly widespread robberies in the area have come to an end, Turkish media reported Monday.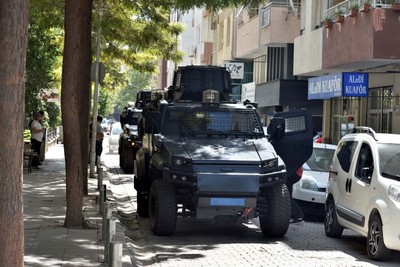 Brunson, a Christian pastor from North Carolina who has lived in Turkey for more than two decades, was indicted on charges of helping FETÖ, which is responsible for the failed 2016 coup, as well as supporting the PKK.
Serving at the Diriliş (Resurrection) Protestant Church in western province of Izmir, Brunson was arrested in October 2016 and moved to house arrest on July 25 due to health problems.
He is scheduled to appear before a court in October for his third hearing after the court rejected an appeal for his release in a July 18 hearing.