More details have emerged regarding the disappearance of Jamal Khashoggi, a Saudi journalist who went missing last Tuesday shortly after entering the Saudi Consulate in Istanbul. Security camera footage released by Turkish media outlets and security sources all point to the abduction or killing of the journalist, who was a known critic of the Saudi regime. Media reports quoting Turkish security sources say Saudi Arabia sent forensic experts with a bone saw and point to a purchase of luggage as evidence of the disposal of Khashoggi's body. Footage first released by Turkey's 24 TV shows the movement of Saudi officials who are suspected to be the "assassins" sent from Riyadh to torture, kill and dispose of Khashoggi.
Daily Sabah's sister publication, the Sabah newspaper, revealed their identities and published images of delegation members caught on security camera footage. The "team of assassins," as Sabah calls them, consisted of military officers – likely from the Saudi intelligence branch – as well as forensic experts. Other media outlets reported that one of them brought a bone saw with him and others on the team visited Istanbul's Grand Bazaar to buy luggage, fueling rumors about the disposal of Khashoggi's body.
The luggage in question was missing when Turkish police searched the "team" before they boarded a private jet to head back to Riyadh. Saudi Arabia vehemently denies allegations that Khashoggi was killed or abducted and taken to Saudi Arabia. Saudi officials claim he left the consulate shortly after entering it on Oct. 2.
Khashoggi was at the consulate to get routine paperwork signed to be able to marry his Turkish fiancée and it was his second visit in the past few weeks.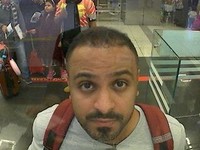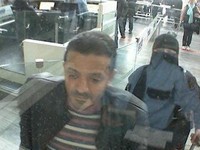 Muhammad Saad al-Zahrani (L) and Salah Muhammad Tubaigy (R), seen here in surveillance cameras at the passport control, have been identified as a royal guard and forensics expert sent to target Khashoggi, according to media reports.
Security camera footage released yesterday shows a Saudi "team" arriving by private jet and then leaving a hotel. In one video, a black van with diplomatic license plates is seen leaving the consulate about two hours after Khashoggi entered the building. The van then drives to the residence of the Saudi consul general, which is located near the consulate building.
The footage begins with the "team" arriving in Istanbul at 3:28 a.m. on Oct. 2 on one of two private Gulfstream jets that Turkish media say were carrying the team. Minutes after their arrival at Atatürk International Airport, two cars can be seen taking the men to Gate E, where eight of them are seen on camera passing through passport control. At 4:51 a.m. and 4:53 a.m. the men, carrying small carry-on bags, check into the Movenpick hotel near the consulate. Seven other men checked in at another nearby hotel at different times. The video then cuts away to traffic outside the Saudi Consulate, showing vehicles with green diplomatic license plates. At 1:14 p.m., Khashoggi is seen walking into the consulate, wearing a dark blazer and light trousers. A man with a light blazer outside the consulate bows slightly as the writer enters the building.
Nearly two hours later, the video shows two vehicles with diplomatic plates - a luxury black sedan and a black Mercedes VITO van - leave through the police barricades outside the consulate. A map shows the van's route from the consulate to the nearby official residence of the Saudi consul general, where CCTV footage shows it arriving at 3:07 p.m. A suited guard speaks into the van for about a minute as an Audi sedan pulls up in front and a passenger exits to enter the residence. A minute later, a man disembarks from the front passenger seat of the van and also enters the building. A flurry of activity is seen outside the residence, with men going in and out, until the van parks in the garage. At 5:32 p.m., cameras show Khashoggi's fiancee, Hatice Cengiz, outside the police barricades of the consulate, speaking on her cell phone. Khashoggi had left his phones with her before entering and told her to wait outside and alert the authorities if he did not return. About two and a half hours later, several men are seen leaving a hotel with their carry-on bags. The video ends with shots of two private jets, in which six men left at 5:40 p.m. and seven others left at 9 p.m.
Public records show that a forensic expert in the "team," identified as Salah Muhammad Tubaigy, works at the Forensic Medicine department of Saudi Arabia's Interior Ministry. Turkish media reports say he was tasked with cleaning up any incriminating evidence. Two other men seen in the surveillance camera footage taken at the airport were identified as royal guards Thaar Ghaleb al-Harbi and Muhammad Saad al-Zahrani. Both men are seen in a video from 2017 with Saudi Crown Prince Muhammed bin Salman.
Turkish officials, speaking to The New York Times on condition of anonymity, said Khashoggi was killed within two hours of his arrival at the consulate by a team of Saudi agents who then proceeded to dismember his body.
APPLE WATCH HOLDS KEY DATA
A report by Reuters says Khashoggi was wearing his black Apple Watch, connected to one of the phones, when he entered the building. A senior Turkish government official and a senior security official said the two inter-connected devices are at the heart of the investigation into Khashoggi's disappearance.
"We have determined that it was on him when he walked into the consulate," the security official said.
Investigators are trying to determine what information the watch transmitted.
"Intelligence services, the prosecutor's office and a technology team are working on this. Turkey does not have the watch so we are trying to do it through connected devices," he said.
Tech experts say an Apple Watch can provide data such as location and heart rate. But what investigators can find out depends on the model of watch, whether it was connected to the internet, and whether it was close enough to an iPhone to be able to synchronize.
A Saudi source told Reuters that British intelligence believed there had been an attempt to drug Khashoggi inside the consulate that culminated in an overdose. He said the information came from a British intelligence source. Contacted by Reuters, British intelligence did not comment. Asked about this account, a Saudi official said: "This death is not true."
Days after he disappeared, Saudi Arabia said they would allow Turkish police to search the consulate. Turkey assigned prosecutors to the case but the search has not taken place yet.
U.S. KNEW OF PLOT TO CAPTURE HIM
In related news, the Washington Post, for which Khashoggi regularly penned columns critical of Saudi regime before his disappearance, claimed that U.S. intelligence services intercepted communications between Saudi officials that revealed their plans to capture Khashoggi. An unidentified source, speaking to the Post, said it wasn't clear whether the Saudis wanted to interrogate or kill him or whether the journalist, who lived in a self-imposed exile in the United States, was threatened. Social media was rife with speculation, from Khashoggi being kidnapped by rogue elements in the Saudi regime seeking to harm the image of the crown prince, to reports that the journalist was accidentally killed while he was being interrogated at the consulate.
The 59-year-old journalist was once close to the Saudi regime but grew frustrated with its policies. A former editor-in-chief for a few Saudi newspapers and a media adviser to Prince Turki al-Faisal, he left Saudi Arabia in 2017 for the United States in the wake of what many perceive as the Saudi regime's crackdown on dissidents, including journalists like him. Crown Prince Mohammed bin Salman is behind a string of reforms as well as the crackdown that included a purge of royals and prominent business figures who were rounded up in an unprecedented operation. Prince Alwaleed bin Talal, whose short-lived satellite news channel Al-Arab was headed by Khashoggi, was among those detained in the roundup last year.
As a contributor to the Washington Post, Khashoggi has written extensively about Saudi Arabia, including criticizing its war in Yemen, its recent diplomatic spat with Canada and its arrest of women's rights activists after the lifting of a ban on women driving. "It was painful for me several years ago when several friends were arrested. I said nothing. I didn't want to lose my job or my freedom. I worried about my family. I have made a different choice now. I have left my home, my family and my job, and I am raising my voice. To do otherwise would betray those who languish in prison. I can speak when so many cannot. I want you to know that Saudi Arabia has not always been as it is now. We Saudis deserve better," Khashoggi said in a September 2017 column in the Washington Post.