After weeks of denial, Saudi Arabia finally admitted on Saturday that journalist Jamal Khashoggi was killed in the country's Istanbul consulate the day he disappeared there on Oct. 2. Riyadh's explanation that Khashoggi, a well-known critic of Saudi policies, was killed in a brawl in the consulate was ridiculed on social media, while an anonymous Saudi official speaking to Reuters on condition of anonymity yesterday explained grisly details of his death. The official said Khashoggi's body was wrapped up in a rug and handed to what he called a "local cooperator" for disposal.
Turkish President Recep Tayyip Erdoğan said he would reveal the "truth" about the Khashoggi case on Tuesday while Turkish officials vowed to pursue the case after Saudi Arabia's admission of guilt. The disappearance of Khashoggi has triggered an international reaction and a flood of denials by top Saudi figures. Saturday's explanation of the circumstances surrounding his death faced skepticism.
The Saudi official detailed how Riyadh dispatched a team of 15 people, described as a hit squad by Turkish media, to confront Khashoggi on Oct. 2, the day the Saudi journalist entered the premises to get paperwork for his upcoming marriage to his Turkish fiancee. The team tried to drug and take Khashoggi to Saudi Arabia, but when he resisted, he was killed by asphyxiation when one of the men put him in a chokehold, the anonymous Saudi official said.

He added that a member of the team then dressed in the journalist's clothes and left the consulate to make it appear as if Khashoggi had left the consulate, which Saudi officials insisted he had.Quoting Turkish officials, media outlets had repeatedly reported that Khashoggi was killed and dismembered in the consulate, but the Saudi official said his body was actually rolled up in a rug and taken out in a consular vehicle.
The anonymous Saudi official said the 15-member team was put together by Ahmed al-Asiri, the deputy head of the General Intelligence Presidency. Al-Asiri was among five high-ranking officials suspended from duty by Riyadh over the Khashoggi incident. The team was supposed to hold the Saudi journalist in a safe house and would then release him if he refused to return to Saudi Arabia. The official said it was part of a plan to convince dissidents abroad to return home.
The journalist was then brought into the consul general's office where Maher Mutreb, the head of the team according to Turkish media, tried to convince him to return. Khashoggi refused and told Mutreb he was "violating diplomatic norms."
"What are you going to do with me? Do you intend to kidnap me?" he said, and in reply, Mutreb said they would drug and kidnap him. Then, Khashoggi raised his voice and the team panicked, the Saudi official said. They tried to restrain him and put him in a chokehold, eventually leading to his death.
Forensic expert Salah Tubaigy, who was a member of the Saudi team, tried to remove any trace of the incident, the official said.
Mustafa Madani, another member of the team, then donned Khashoggi's clothes and left through the back door of the consulate, apparently to make it look like Khashoggi had left the building. He went to Istanbul's Sultanahmet district later and disposed of the clothes there. The official said all 15 team members had been detained and placed under investigation, along with three local suspects.
Friends, colleagues call for justice for Khashoggi
Khashoggi's disappearance first made waves in the media after Turan Kışlakçı, a close friend of the Saudi journalist and head of the Istanbul-based Turkish-Arab Media Association, and other journalists and activists, including Yemeni Nobel laureate Tawakkol Karman, demonstrated outside the Saudi consulate in Istanbul in the aftermath of Khashoggi's disappearance.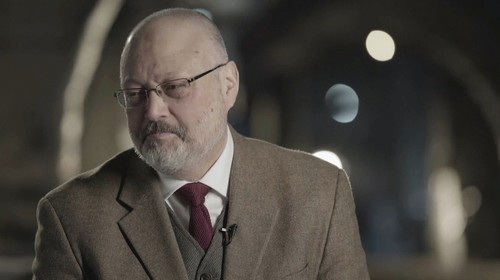 Khashoggi was a prominent critic of the Saudi regime.
Making a statement on behalf of the Turkish-Arab Media Association outside the consulate on Saturday, Kışlakçı called for punishment of Khashoggi's murderers and criticized support for Saudi Arabia over the case.
"Exactly 18 days ago there was a murder here. Our dear friend, journalist, thinker and member of the Turkish Arab Media Association Jamal Khashoggi was slaughtered by bloody murderers here in the most brutal way that human history has ever seen. These bloody murderers had plans but it's broken," the statement read by Kışlakçı said.
The association thanked everyone "sensitive" about the case, including President Recep Tayyip Erdoğan "who always make us feel the support he has for us, who manages this whole process with great devotion and diplomacy. But this is not over. It's just starting. Today we are calling the whole world on duty. We want justice for Jamal. We want Jamal's murderers to be punished," the statement said, adding they wanted punishment not only for team of officials sent to Istanbul for Khashoggi but "also for the authority that gave the orders." It called the kingdom to "review" the statement "which is away from reality" and ensure "true justice for Jamal."
"We do not doubt that His Royal Highness Salman has the power to do [it]," it added.
The association also lashed out at U.S. President Donald Trump who refused to back out of arms sale to Saudis after Khashoggi incident. Upon calls to halt a large arms deal with Riyadh over the disappearance and subsequent murder of Khashoggi, Trump has stated that it would "hurt American jobs."
"We have $450 billion, $110 billion of which is a military order, but this is equipment and various things ordered by Saudi Arabia," Trump told reporters on Saturday. "It's over a million jobs; that's not helpful for us to cancel an order like that. That hurts us far more than it hurts them," he added. The U.S. president has said that Saudi Arabia is valued as a historic customer for the U.S. weapons industry and that the U.S. also relies on the kingdom in the fight against terror.
Bob Corker, chairman of U.S. Senate Foreign Relations Committee and a prominent Republican senator said yesterday that Saudi Crown Prince Mohammed bin Salman (widely known as MBS) was responsible for Khashoggi's death. Speaking to CNN, he said Saudis have lost credibility in their explanation of journalist's death.
Khashoggi, once close to the royal family, left for the United States for self-imposed exile after he raised criticism of Riyadh's policies on a number of issues. He was critical of arbitrary detentions in his home country and is believed to have angered Saudi Arabia's crown prince. Citing U.S. intelligence intercepts, the Washington Post claimed MBS ordered an operation targeting Khashoggi.
"We consider Mr. Trump's statements as unfortunate to protect his defense lobby as a shame for the American public," the statement by Turkish-Arab Media Association said.
"Jamal's killers had their plans broken, their knees knocked together and they resorted to an inhumane method of abducting him. Did they kidnap him? Where did they take him? How did they do this? These questions don't matter. There's only one thing that matters right now. Give Jamal back to us. Give him back so that we can hold his funeral. Let the whole world watch Jamal Khashoggi's farewell who was killed in a dark room with horrific details and whose body they tried to hide," the statement also said.
Turkey vows to follow up the probe
Speaking in Istanbul yesterday, President Recep Tayyip Erdoğan said he would reveal details about Khashoggi's death on Tuesday, at his party's weekly meeting at the Parliament. "Why did 15 people came here and why were 18 people detained? I will explain them in a very different way," Erdoğan said, using a phrase he employs for his statements on critical matters.
Turkey has been on the case since the disappearance of Khashoggi in the face of Saudi Arabia's reluctance to let its consulate be searched. Police were allowed into the premises long after the incident and the investigation was later expanded to a nearby forest where Khashoggi's body was thought to be buried. Prosecutors heard testimonies of 20 Turkish staff at the consulate last week and 25 more staff members will be heard by prosecutors. While the Presidency has not commented yet on the case after Saudis' admission of Khashoggi's death, a spokesman for the ruling Justice and Development Party (AK Party) said the truth would be "revealed."
"Turkey will find out what happened undoubtedly. We carry out an investigation in coordination with the Saudi side, along with an independent probe," Ömer Çelik said. "We do not blame anyone but do not consent to the case being closed. This is a dire incident and shedding light on it is a matter of honor for us," he said. Foreign Minister Mevlüt Çavuşoğlu earlier stated that they would share the results of the probe with the world transparently.
Reactions from the international community
The foreign ministries of United Kingdom, France and Germany issued a joint statement on the death of Khashoggi yesterday, condemning the incident.
"The violent death of Jamal Khashoggi, within the premises of the Saudi Consulate General in Istanbul had been feared for many days but its confirmation still comes as a shock. Nothing can justify this killing and we condemn it in the strongest possible terms. Defending freedom of expression and a free press are key priorities for Germany, the United Kingdom and France. The threatening, attacking or killing of journalists, under any circumstances, is unacceptable and of utmost concern to our three nations," the statement said.
It said there remained an "urgent need for clarification of exactly what happened on October 2, beyond the hypotheses that have been raised so far in the Saudi investigation, which need to be backed by facts to be considered credible." "We thus stress that more efforts are needed and expected towards establishing the truth in a comprehensive, transparent and credible manner."
The European countries in the statement said that they would "make their judgement based on "the credibility of the further explanation we receive about what happened and our confidence that such a shameful event cannot and will not ever be repeated." They also pledged to stay "in close contact with our Saudi partners" on the issue.
"The quality and significance of the relationship we have with the Kingdom of Saudi Arabia also rests with the respect we have for the norms and values to which the Saudi authorities and us are jointly committed under international law," the statement concluded.
France earlier welcomed "progress" in the case but urged a full, transparent investigation. How bilateral relations develop from here will "depend on the way the truth is aired, the investigation conducted and the results established," French Finance Minister Bruno Le Maire said yesterday.
On the part of the United Kingdom, Brexit Minister Dominic Raab has called the case "terrible" but said the government was not ending its relationship with the kingdom, which buys hundreds of millions of pounds in weapons from Britain each year.
Separately, German Foreign Minister Heiko Maas has signaled earlier that Chancellor Angela Merkel's coalition government would put on hold arms sales to Saudi Arabia. "As long as this investigation continues, as long as we don't know what really happened there, I think that there is no basis for a positive on arms exports to Saudi Arabia," he told German public broadcaster ARD.