Turkish prosecutors have sent an extradition request to Armenia yesterday for Kemal Öksüz, a prominent member of the Gülenist Terror Group (FETÖ) who is wanted by the United States on fraud charges.
The extradition request says Öksüz, who was captured in Armenia in August, smuggled about $3 million abroad in three years and includes testimony of his brother who described Öksüz's activities as a FETÖ member.
Öksüz, dubbed as FETÖ's "imam" (regional head or handler of FETÖ members) for Houston, Texas, was arrested in Armenia due to a U.S. arrest warrant issued against him for breaching ethics and fraud. He was running a business and a nongovernmental organization in Armenia.A former businessman, Öksüz was the chairman of the Texas-based nongovernmental organization Turquoise Council of Americans and Eurasians (TCAE), a Gülenist regional umbrella organization that controlled several other Gülenist nonprofits.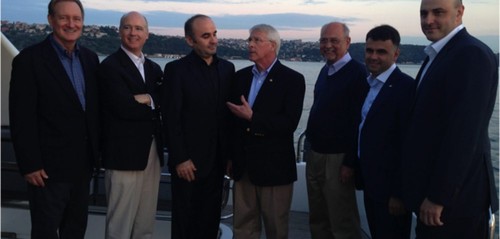 Öksüz (third left) in a photo op with U.S. senators Roger Wicker (fourth left) and Mike Crapo (left). Wicker was a frequent guest of FETÖ-sponsored events in the U.S. and his election campaign's donors included Gülenists, according to reports.
As a common practice to promote their political agenda and business interests, which mainly exploits the U.S. charter school system with dozens of schools, Gülenists often organized paid-for trips to Turkey and its surrounding region for U.S. senators, congress members, state officials and local officials, in addition to dinners, award events and panels. Öksüz and the TCAE came under federal scrutiny by the Congressional Ethics Committee for coordinating a trip in 2013 where dozens of U.S. members of Congress traveled to Azerbaijan for a conference. He previously pleaded the Fifth Amendment, while politicians on the trip were fined by the ethics committee. A Washington Post article says that 10 U.S. Congress members and 32 staff members on the trip also received valuable gifts worth thousands of dollars. Three former top aides to President Barack Obama appeared as speakers at the event.
Öksüz was also the owner of a company that served as a major vendor for Harmony Public Schools in Texas, which is the largest Gülenist school network in the U.S., according to the book "Empire of Deceit: An Investigation of the Gülen Charter School Network" published by attorney Robert Amsterdam and his law firm, which represent Turkey in lawsuits in the U.S. His company signed more than $50 million in contracts in a year, making Öksüz a millionaire in the process. Harmony operates more than 50 schools in Texas and receives more than $250 million in public funding every year. It also serves as a regional oversight entity for all Gülen-linked school networks and organizations in several states included in the shadowy group's greater Texas region. Gülenist schools are being accused of exploiting and defrauding the charter school system by sending a large number of their sympathizers to the U.S. with H1-B visas and using affiliated vendors to funnel millions of U.S. public money into their own organization. Öksüz and the TCAE are also known for hefty donations mainly aimed at the Democratic Party and its candidates on the federal and state level. Turkish media reports after the U.S. presidential elections in November 2016 indicated that Gülenists donated more than $2 million to Democratic candidate Hillary Clinton's campaign. Öksüz was often spotted in events linked to top-ranking Democrats.
Öksüz is being sought by Turkey on FETÖ membership charges due to two separate court orders issued in 2016 and 2017 and is banned from traveling abroad.
The extradition request by Turkey includes a detailed description of Öksüz's ties to FETÖ, starting in his youth. He is accused of funneling money from his bank accounts in Turkey to FETÖ members in Georgia and the United States. Prosecutors say money transfers were used to "finance the terrorist group."