Turkish police on Monday carried out a search at two villas in northwestern Yalova province as part of the ongoing investigation into the killing of Saudi journalist Jamal Khashoggi.
Authorities believe that one of the Saudi agents allegedly involved in the murder at the kingdom's Istanbul consulate, Mansour Othman Abahussain, called one of the villa's owner on the day before the killing, the Istanbul chief prosecutor's office said.
The suspect, allegedly one of a "hit squad" of 15, and the Yalova resident spoke about disposing or hiding Khashoggi's remains after his body was dismembered, the prosecutor's office said in a statement, according to the official Anadolu Agency.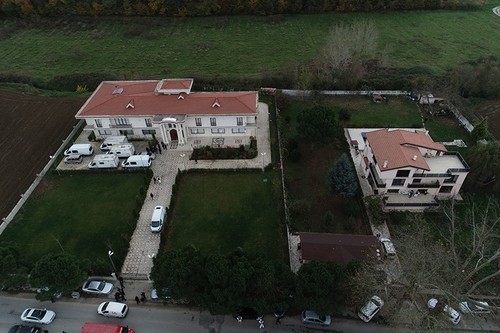 The owner of the property is a Saudi national, Mohammed Ahmed Alfaozan, who had the codename "Ghozan," it said. Two officials told Reuters that Alfaozan had purchased the property, near Yalova on the Sea of Marmara, around three years ago.
Photographs of the Saudi king and crown prince were hanging inside one of the villas, according to AA.
Investigators drained two wells on the property, located in the Samanlı village in the Termal district. Detector dogs and drones were also being employed in the inspection at the two-story villas, AA said.
Turkish authorities have previously carried out inspections at the kingdom's consulate and the consul general's residence in Istanbul as part of an investigation into the murder of the journalist, who was killed at the Saudi consulate after arriving there for marriage documents on Oct. 2.
His remains have not yet been located. Turkish investigators widened their search to Yalova and Belgrade forest on the outskirts of Istanbul to search for his body.
Turkey, along with other countries, has pressed for answers about the killing, including who gave the orders and what happened to Khashoggi's body, which was reportedly dismembered.
Khashoggi's killing has Saudi Arabia's international relations and battered the image of its de-facto leader, Crown Prince Mohammed bin Salman.
Saudi Arabia has said the prince had no prior knowledge of the murder. After offering numerous contradictory explanations, Riyadh later said Khashoggi had been killed and his body dismembered when negotiations to persuade him to return to Saudi Arabia failed.
President Recep Tayyip Erdoğan has said the killing was ordered by the highest level of Saudi leadership but probably not from King Salman, putting the spotlight instead on the 33-year-old crown prince.
U.S. President Donald Trump said last week Washington would remain a "steadfast partner" of Saudi Arabia despite saying that Prince Mohammed may have known about the plan to murder Khashoggi.