A man faces charges of attempted murder of a Muslim teenager who was stabbed outside a mosque in Birmingham early Saturday.
The teenager was put in an induced come after being stabbed repeatedly in the face and neck by 29-year-old Dominic Palmer outside the Maarif-e-Islam Hussainia Mosque.
British police said the attack was not terror-related yet the motive was still unclear. West Midlands said they are keeping an "open mind as to whether it was religiously or racially motivated."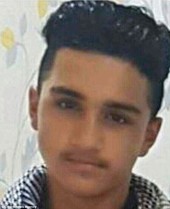 The 15-year-old victim, Syed Hassan Abbas, was about the visit the mosque to observe Ashura - one of the holiest days on the Muslim calendar which is observed each year on the 10th day of the month of Muharram - before he was attacked.
The victim's brother Syed Nedhi Abbas, 17, said his brother was attacked when he approached the mosque as their father and 11-year-old brother were turning the car around when the attacker ran towards him.
"We think he was holding a small knife and he stabbed him around nine times in the face, neck and the back of his head."
​Amjad Shah, the general secretary of Hussainia mosque, said the incident was "a cowardly and unprovoked attack" and the suspect was not associated with any particular mosque or community according to background checks.