Outlawed PKK supporters staged demonstrations on Tuesday in the neighborhood of Gazi in Istanbul under the cloak of protesting Monday's terrorist attack which killed 31 civilians and injured 76 in Suruç district of southeastern city of Şanlıurfa.
In the unauthorized demonstration the supporters of the outlawed terrorist organization were seen carrying posters of several people that died during Monday's bombing as they shouted slogans and marched along the streets. The protesters' faces were covered in red veils and some were carrying assault rifles.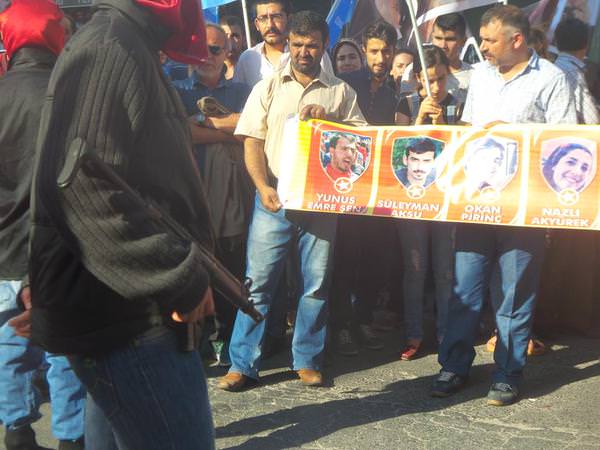 The terrorists also attacked offices and vehicles with long barreled weapons in several neighborhoods across Istanbul and later opened fire against police officers.
The unidentified terrorists attacked two police stations with long-range caliber weapons, one in Küçük Armutlu neighborhood in Sarıyer district and another in Gazi neighborhood in Sultangazi district.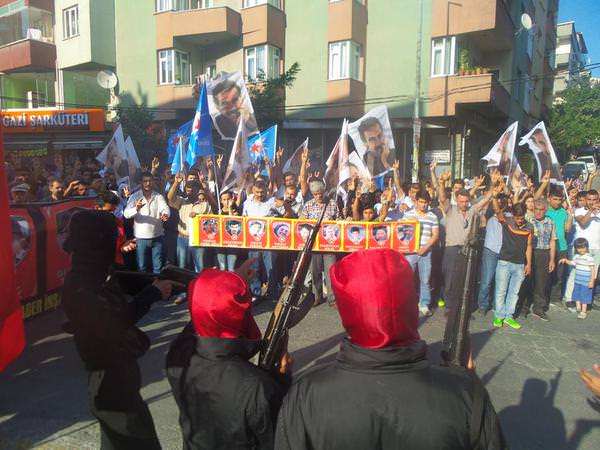 Two police officers were slightly injured in the attack which took place in Gazi. Police officers of the station immediately responded to the shots.
No officers were injured in the attack in Küçük Armutlu.
The investigation following the incident in Gazi showed that the attack was carried out from a slum 150 meters away from the police station, while eleven bullets hit the police station.