Two PKK terrorists preparing to carry out an attack in Istanbul's Uzunçayır metrobus station were detained by Turkish police on Wednesday, during a routine criminal record check in Istanbul's Kadıköy district.
During a criminal record check at around 5.00 p.m., motorcycled police units of Kadıköy Police Department -named 'Yunuslar' (Dolphins)- got suspicious of two men in the metrobus station, which is used as an interchange hub between the city's metrobus and metro lines. It was discovered that the two suspects were members of the PKK terrorist organization and two unregistered guns along with bullets were found on the terrorists in the initial search.
It was also found that the terrorists had been wanted by the police for being "a member of a terrorist organization" and "participating in terrorist acts."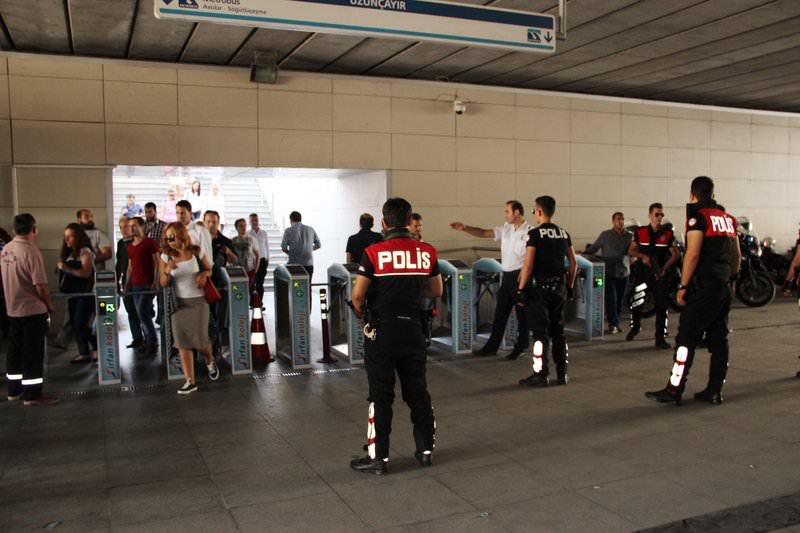 The two PKK terrorists V.A. and S.A., both aged 24, were taken to Vatan Police Headquarters' Anti-Terror Branch for interrogation. In the interrogation, documents belonging to the terrorist organization and their two weapons were confiscated.
On the other hand, another man who had a criminal record for causing 'bodily harm' was also taken into custody.
A large-scale investigation was launched into the incident.
This isn't the PKK's first attack on heavily populated public places. Previously on August 19, two terrorists attacked police at the entrance of Dolmabahçe Palace, a popular tourist site and home to the prime minister's Istanbul offices.
Prior to that, PKK terrorists had also attacked a bus in Turkey's eastern province of Erzurum on August 17, killing a civilian.
Turkey has been hit by violence since a suicide bomb attack by a suspected ISIS supporter killed 32 activists in Suruç on July 20.Turkish security forces have arrested hundreds of people with suspected links to ISIS, the PKK, and leftist groups, detaining over 1,300 people across the country, according to a recent statement released by the Prime Minister's Office.
According to military sources, 918 terrorists were killed in Turkey's airstrikes against PKK's hideouts and camps in northern Iraq.