The sweltering heat wave that has gripped Istanbul for weeks may come to an end this weekend, as weather forecasters predict more rain will pour over the next couple of days.
Heavy downpours that started on Saturday paralyzed daily life in some parts of Istanbul. Flash floods disrupted traffic especially on the busy route of Trans European Motorway (TEM), while people ignoring the weather forecast of occasional precipitation over the weekend desperately sought shelter from the rainfall. Many rushed to shops to take shelter.
Football stadiums were also affected by Saturday's rain, as some of the parts of Türk Telekom Arena stadium were flooded.
Another area of the city that was affected by heavy rain was Kurbağalıdere (TheFrog Creek), a creek along the sea-shore districts of Istanbul's Asian side. As the creek flooded, an animal market around the creek where sacrificial cattles are sold ahead of the Kurban Bayram holiday was adversely affected, with sellers showing their best effort to save their animals from staying under the water.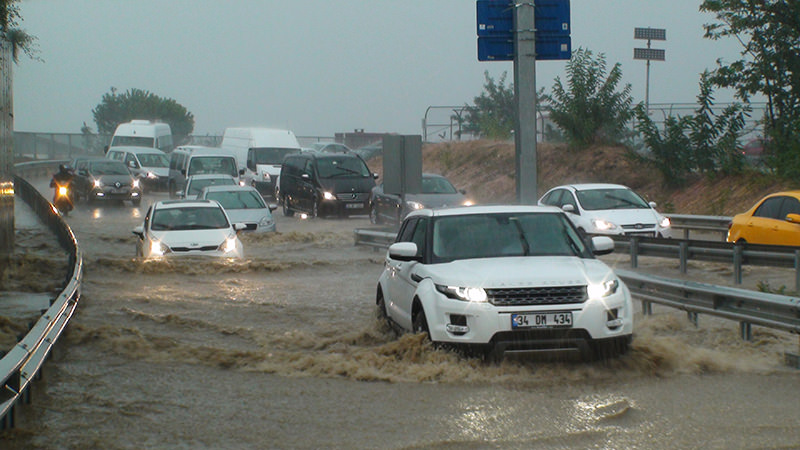 Also, the Turkish Airlines (THY) has cancelled a total of its 31 domestic and abroad flights planned to take off from Atatürk and Sabiha Gökçen airports. The airline company advised its passengers to check up-to-date information regarding their flights from the company's website or call center.
Turkey has been gripped with temperatures above seasonal averages for weeks. Weather forecasters had warned about the rain over the weekend. Temperatures that have been floating 2 to 5 degrees Celsius above seasonal averages started dropping on Friday and this trend will continue according to meteorology experts who expect weather within seasonal averages to make a comeback following the upcoming days of rain.