Police found out that the eight Moroccan nationals, who were apprehended at Istanbul's Atatürk Airport as they arrived from Casablanca, were planning to go to Germany illegally. One noteworthy document found in possession of one of the detainees was an itinerary plan. According to the seized document, the group had planned to travel from İzmir in western Turkey to Germany through Greece, Serbia and Hungary.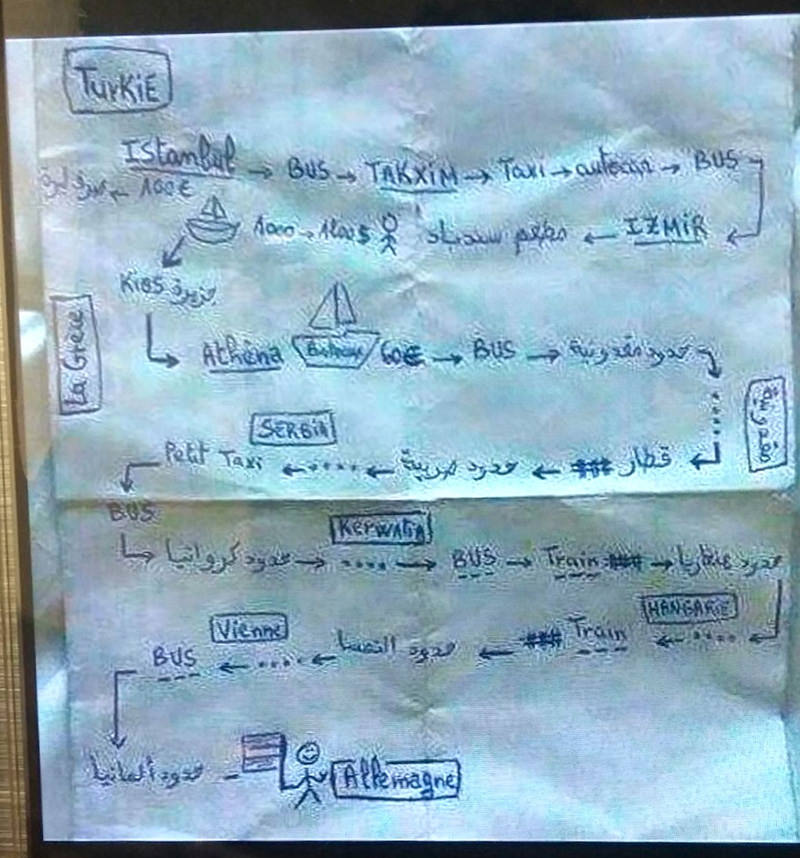 Wednesday's detentions, which follow the capture of 40 Moroccan DAESH recruits earlier this month, at Atatürk Airport highlight the growing risk that the militant group poses to European countries. It also indicates trouble in Morocco, an increasingly popular recruitment hub for DAESH due to the country's unwillingness to curb recruitment efforts.
The detainees' plan to infiltrate European countries by posing as refugees will also likely add to the woes of Europe where any single terror attack linked to DAESH helps increase Islamophobia, according to some experts. Concerns are growing that the attacks may lead to a further escalation of anti-refugee sentiment in Europe where far-right movements are gradually on the rise following the massive flow of refugees from war-torn Syria.
It is not clear whether the suspects were planning attacks in Germany, which has been on high alert against potential terror strikes following a series of attacks in Paris. A friendly football match between the German and Dutch national teams was canceled on Tuesday due to reports that DAESH was planning to attack the stadium where it would be played.
Turkey, which shares a lengthy border with Syria, is a popular crossing point into Syria for foreign fighters. It is also popular among Syrian refugees trying to cross into Europe because of the country's close proximity to Greece and Bulgaria. Thus, Turkey seeks better coordination with European countries to reduce refugee flows and terrorist activities.
Turkey has been hit by several DAESH attacks, including a twin suicide bombing in Ankara last month that killed 102 citizens and wounded over 200. Turkish security forces also continue to crack down on DAESH militants and launch raids against terrorist cells. Security forces have detained around 1,000 DAESH-linked suspects, expelled nearly 2,000 suspected foreign nationals and banned some 15,000 others from entering the country. Turkey was one of the first countries to include DAESH on its list of terror organizations in 2013. The Turkish army said in a statement on Wednesday that one suspected DAESH member attempting to secretly enter Turkey from Syria was shot by soldiers, while 21 others, including 9 children, were apprehended at the border.
Wednesday's detentions in Istanbul also raised concerns about Morocco as a source country for DAESH militants. A report by the German Institute for International and Security Affairs (SWP) said that as many as 1,500 Moroccans fight in Syria and Iraq for the militant group. The report criticized the Moroccan government for its insufficient efforts to detect DAESH cells in the country. "With a contingent of around 1,500 fighters, Morocco is considered one of the main exporters of foreign fighters to Syria. Until 2014, Moroccan authorities were content to see their own militants leave and add to the pressure on Syria's [President] Bashar Assad, mostly turning a blind eye to networks of recruitment. Since the dramatic rise of DAESH, concern over local repercussions and the return of war-hardened radicals has prompted Rabat to adopt a hardline, security-oriented approach instead. Repression, however, is unlikely to uproot these networks. Instead, a comprehensive strategy for de-radicalization should aim to rehabilitate and reintegrate returning fighters and use their example to dissuade others from violent militancy," the report said.
The Carnegie Endowment for International Peace also highlighted that many Moroccans have joined militant groups and criticized the government in a report published in April 2014. "The failure to resolve or even address this issue or the underlying causes of radicalization have, along with other motives, encouraged Moroccan Salafis to join fights in Syria and elsewhere," the report said.
In the face of a rising number of militants attempting to join DAESH, last year Morocco asked Turkey to invoke visa requirements for Moroccan nationals seeking to entrance to the country.
Report: DAESH suspect in İzmir friend of Paris assailant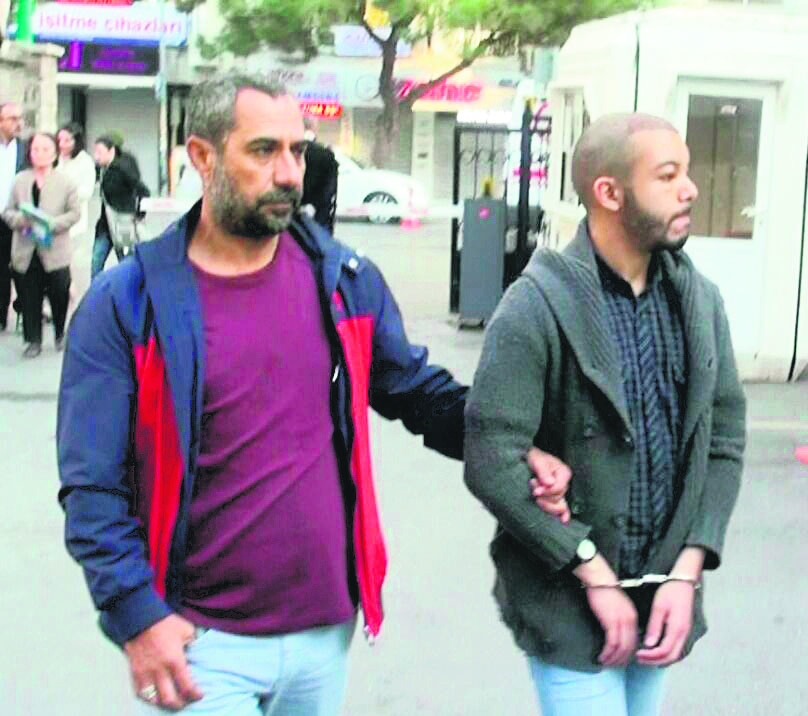 A police officer accompanies Mehdibend Said after he was detained in İzmir earlier this month.

A Turkish daily claimed a French national captured in the western city of İzmir on Nov. 11 was a friend of Ahmad al-Mohammad, one of the identified suicide bombers in last week's Paris attacks that killed 129 people. Akşam newspaper said in an article published Wednesday Mehdibend Said fought alongside al-Mohammad in Paris for DAESH and was planning to travel to Europe, likely to join the group of Paris attackers.
DAESH suspect Said was caught after he had a hair transplant at a clinic in İzmir and before his planned plastic surgery to change his appearance, apparently in a bid to avoid detection. Akşam daily reported that Said was under surveillance and entered Turkey last year. He had disappeared for a long time before he was captured in İzmir where he had been hiding for one month.
Al-Mohammad had an accomplice with him as he traveled through the Balkans to France, and he had entered Greece posing as a Syrian refugee, Reuters, quoting counter-intelligence and police sources, said in a report Wednesday. A counter-intelligence source in Macedonia told Reuters that a companion was with al-Mohammad at the time they bought ferry tickets to Piraeus on the Greek mainland.