Qatar Airways plane's engine catches fire, makes emergency landing at Atatürk Airport (IST)https://t.co/z64qVatqxs pic.twitter.com/Kxz0voN7qV

— DAILY SABAH (@DailySabah) August 18, 2016
An Airbus A-330 passenger jet of Qatar Airways made an emergency landing at Atatürk Airport in Istanbul on Thursday after its engine caught fire after a bird strike.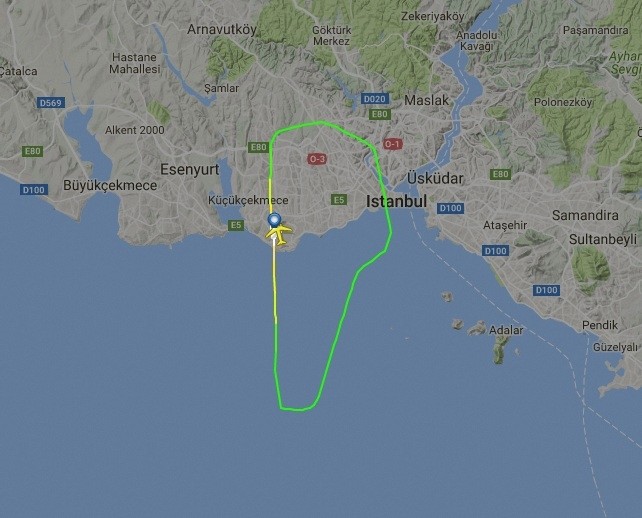 Anadolu Agency reported that Qatar Airways' Doha-bound plane experienced a technical fault concerning one of its motors causing a fire, forcing it to return to Atatürk Airport.
Video footage showed flames spitting out of the left engine of the Airbus 330 as it prepared to land at Istanbul's Ataturk Airport. It made it safely to the ground.

Qatar Airways said that the aircraft landed safely and that passengers had disembarked as normal.
"Today's QR240 from Istanbul Ataturk Airport to Doha has returned to Istanbul and has landed safely. The passengers have disembarked as normal. The pilot followed all QR safety procedures," read a statement by the Gulf carrier.
A later statement by the airline to The Associated Press said that "all 298 passengers and 14 crew disembarked normally." However, local Turkish news agencies reported one woman on board was hospitalized after suffering a fainting spell.
It said it would send a replacement aircraft to Istanbul to ferry waiting passengers onward to its hub in Doha.
The airline blamed the fire on Flight QR240 on what it described as a "bird strike," without elaborating. Typically, such strikes can see birds sucked into a passenger plane's jet engine, sparking a fire and shorting it out.
Qatar Airways is one of the Mideast's three biggest carriers, alongside the region's biggest carrier, the Dubai-based Emirates Airline, and the Abu-Dhabi based Etihad Airways. The three have increasingly challenged Western airlines in long-haul flights.
Qatar Airways flies out of its hub in the vast new Hamad International Airport in Doha, which is preparing to host the 2022 FIFA World Cup.
Qatar Airways has a fleet of 190 aircraft flying to over 150 destinations. It holds a 20.01-percent stake in British Airways and Iberia parent IAG and posted net profits of $445 million for the fiscal year ending March 31, with revenue peaking to $9.6 billion.