A huge amount of debris, believed to have been generated in a construction site, has been washing ashore in beaches in Istanbul's Kilyos for the last couple of days, prompting an outcry from the locals and causing environmental concerns.
The beaches on the Black Sea coast, one of the most popular getaways for Istanbulites in summer, have been heavily polluted by the waste.
Boğaziçi University student Eyüp Şamil Çetinkaya told Doğan News Agency that they have heard rumors that a construction company has been illegally dumping debris into the sea.

"This [beach] was one of the few beaches that remained clean in Istanbul. We even swam here before. Just looking at here disgusts people, let alone swimming," Çetinkaya said.
Another student, Ayşenur Sevinç stated that the beach has been polluted for the last week, and it has never been this bad, adding that the debris comes from ships dumping offshore.

The Istanbul Metropolitan Municipality (IBB) said in a statement that municipal units, comprising of 121 people, on Sunday started their efforts to clean up a five-kilometer-long section of the beaches and remove the debris, which is believed to have been dumped on Saturday. So far, 300 bags – 3.5 tons – of debris containing styrofoam, wooden material and plastic bags have been collected, the statement said, adding that an investigation is underway to determine who dumped the debris at the location.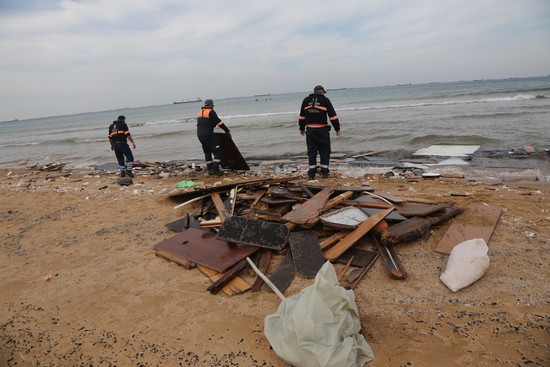 A boat is also scanning the sea surface to determine whether there is still any floating debris.
Şükrü Genç, the mayor of Sarıyer district, said that their units are also taking part in cleanup efforts in coordination with IBB units. Genç added that the pollution problem needs monitoring and intervention from the sea.