Turkey's best known BASE jumper on Thursday successfully leapt from the iconic Galata Tower in Istanbul, following in the footsteps of a legendary Ottoman aviator almost four centuries ago.
Cengiz Koçak, 44, landed safely and his parachute rapidly activated after he jumped from the 36-meter (118 foot) high balcony of the tower.
Turkish BASE jumper Cengiz Koçak jumps from Istanbul's iconic Galata Tower https://t.co/QKCZexeNg1 pic.twitter.com/IQ9iuAzfen

— DAILY SABAH (@DailySabah) November 9, 2017
The adventurer, who has completed jumps throughout Turkey and abroad, is the first person in modern times to jump from the tower.
"I don't get so excited normally but this time I was very excited, I couldn't sleep at night," Koçak said after landing in the square beneath the tower.
"It has been a location that I have had in my mind since my childhood," he said.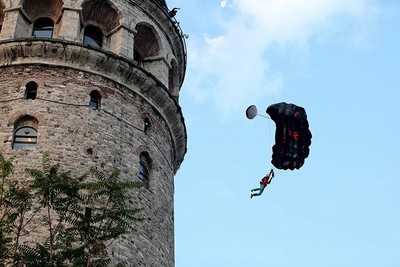 A symbol of Istanbul and a major tourist hot spot, Galata Tower was built by the Genoese in 1348 and offers a spectacular panoramic view of the city overlooking the Golden Horn and the Bosporus.
When it was built, it was the tallest building in Istanbul. During the Ottoman era, the stone-made tower was used to spot fires in the city.
The inspiration for his jump was the reputed feat of Hezarfen Ahmet Çelebi, a legendary Ottoman aviator who in the 17th century is said to have flown from the Galata Tower using wings made of eagles' feathers.
According to the legend reported in the writings of traveler Evliya Çelebi, Hezarfen even flew from Galata over the Bosporus to the slopes of Üsküdar on the Asian side.
Quite what Hezarfen Ahmet Celebi achieved remains unclear. But Koçak said in future he would also try to fly from the very top of the Galata Tower across the Bosporus to Üsküdar with special equipment.
"I hope this jump gives inspiration to people and extreme sports develops in Turkey," he added.
The event, backed by culture ministry and Istanbul municipality, was aimed at promoting extreme sports and tourism in Turkey.
Koçak began parachute jumping in the Turkish armed forces and has in recent years become the best known exponent in Turkey of BASE jumping, where participants jump from fixed objects, rather than a plane, using a parachute or wingsuit.